Meet the Dean
Very Revd Dr Sarah Rowland Jones, Dean & Precentor of St Davids Cathedral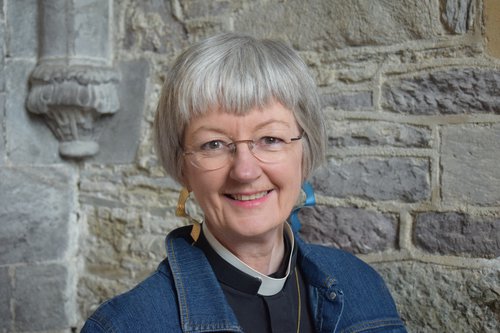 Dean Sarah grew up in Welshpool and Shrewsbury. After reading Maths at Cambridge University, she joined the diplomatic service, and in the following 15 years had postings in the British Embassies in Jordan and Hungary. Responsibilities during London postings at the Foreign Office included energy policy, counter-terrorism and dealing with the European Union.
While in Budapest, she was made a Lieutenant of the Victorian Order (LVO) for her role in organising the Queen's state visit to Hungary in 1993. She left the service in 1996 to pursue her Christian vocation and was awarded the OBE for services to the Foreign & Commonwealth Office in January 1997.
Dean Sarah trained for the priesthood at St John's College, Nottingham. She was ordained in 1999 and served initially in Wrexham, in her home diocese of St Asaph.
In 2002, she moved to South Africa to marry the Rt Revd Justus Marcus, regional Bishop in the Diocese of Cape Town and formerly Dean of Kimberley Cathedral, whom she met when they were both appointed to the Inter Anglican Standing Commission on Ecumenical Relations. She continues to serve on various regional and international Anglican and ecumenical bodies.
Sadly, Bishop Marcus died from cancer a year later. Thereafter Sarah worked as Research Adviser to successive Archbishops of Cape Town, and during this time completed a doctorate in philosophy of religion and public theology, entitled Doing God in Public.
In 2011 she married a fellow Welsh exile working in South Africa, Peter Evans. They returned to Wales in 2013 for Sarah to take up a post at the city centre Church of John the Baptist in Cardiff.
Her appointment as Dean of S Davids was announced in November 2017 and she was collated and installed in May 2018.