St Davids Cathedral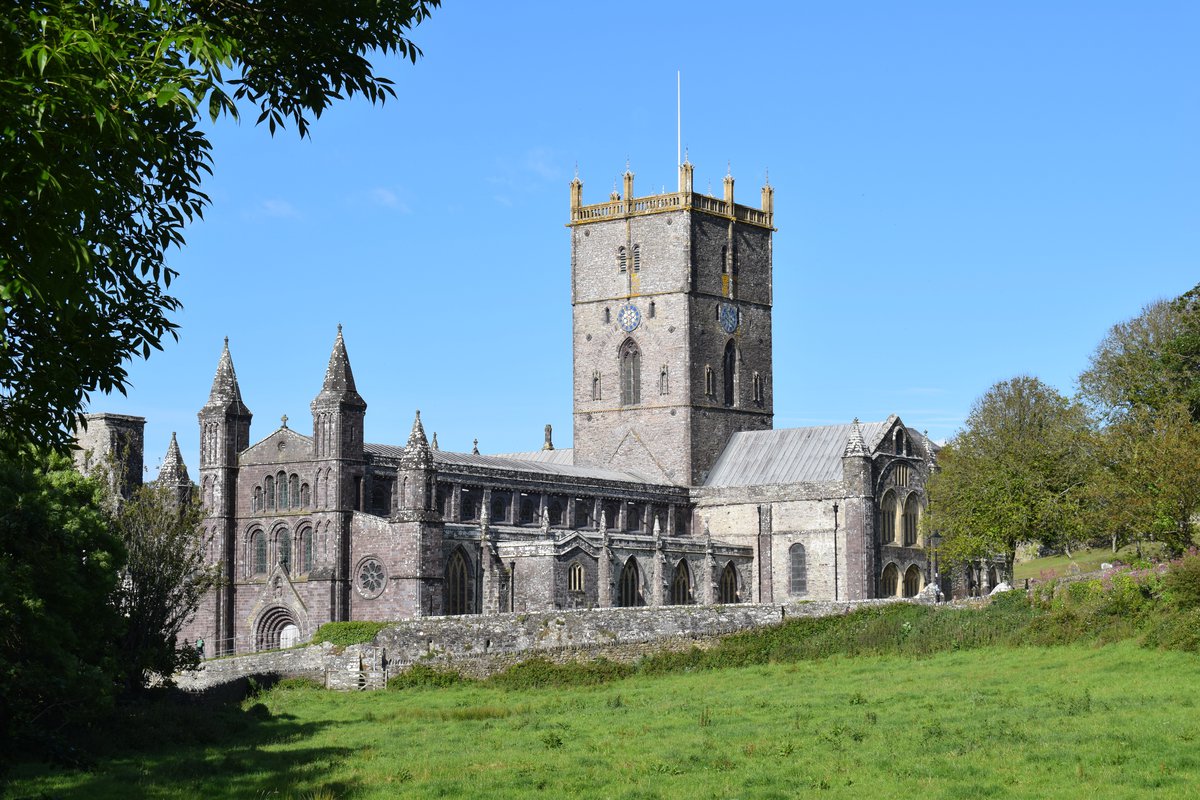 St Davids Cathedral
St David's Cathedral is the mother church of the diocese of St Davids and an iconic reminder of the Christian heritage of the whole nation of Wales. The cathedral is home to a living community of faith that maintains daily worship, welcomes visitors and pilgrims and offers a pastoral ministry of welcome, care, healing and re-creation.
The building, ancient in foundation but revised on many occasions through 1500 years, bears witness to the presence of God in a changing world and to the attempts of Christians in this place, throughout history, to find ways of symbolising their experience of God in their own times.
It is the evangelistic aspiration of the cathedral to bear witness to the Gospel in our contemporary setting, and to this end it seeks to be a place of excellence, innovation and challenge in the areas of spiritual growth, evangelistic outreach and liturgical expression.
It is a place that celebrates human creativity, especially through the visual arts and music, and works towards human flourishing by encouraging a sense of vocation in all.
From early times the cathedral has been a focus for pilgrims – a link that has now been re-affirmed in the restoration of the shrine to St David himself.
Today, as always, the cathedral is first and foremost a house of prayer, a sacred space, and a place that encourages personal honesty and growth in a context where the presence of God has been experienced through centuries.
It is also a place of learning and teaching, both about the heritage of Christianity and its vital importance in today's society. It offers space and tranquillity in which those whose discipleship is lived out in places of pressure, busy-ness and stress, can find a new perspective and commentary on their lives.
St Davids Cathedral welcomes disabled visitors. There is a wheelchair available in the South Porch for use in the Cathedral. There is a toilet suitable for disabled visitors in the South Cloister. There is a loop system in the Nave and the Quire.
For further advice and information please contact: Judith Leigh on 01437 720202
Ty'r Pererin Education and Pilgrimage Centre
The Tŷ'r Pererin Education & Pilgrimage Centre is open to welcome visitors and pilgrims, offering a wide range of activities, including curriculum-based courses for schools.
The Cathedral Library
St Davids is the only Welsh cathedral to have a library within its walls.
The collections consists of around 7,000 books dating from the Reformation onwards plus a huge photography archive.
Dewi's Acre
Dewi's Acre / Erw Dewi is a new Community Garden in St Davids down on The Close by the cathedral. The Cathedral is working in collaboration with Eco Dewi on this project, that will not only benefit our local community but also our local natural environment.
St Davids Cathedral Music Festival
The 2023 St Davids Cathedral Festival has been cancelled. due to the economic climate.
The proud musical tradition of the Cathedral will be maintained through the regular pattern of occasional concerts through 2023.
For more information, follow the festival website at https://stdavidscathedralfestival.co.uk/
Download our Cathedral App
Visitors and pilgrims to St Davids Cathedral can now experience its treasures like never before.
A new App is now available as a free download to your iPhone, iPad or iPod. Suitable for all ages, it provides a timeline of its 1500-year history and information about all areas of the building, with detailed plans and pointers to detailed information pages with high resolution zoomable images. It can also show the three nearest points of interest to you in the cathedral grounds, dynamically updating the nearest locations as you travel around.
Technical note: The cathedral app is optimised for iPhone 5. Requires iOS 7.0 or later Created by WebAdept for St Davids Cathedral.
Discovering St David