HISTORY SHARED: Mediaeval crozier links St Davids and Canterbury
A 12th century crozier – or bishop's staff – from St Davids Cathedral is to be featured in a new exhibition at the British Museum in London, dedicated to St Thomas Becket.
This rare artefact dates from the time of Becket's murder and was discovered during restoration work undertaken at the cathedral in the 1860s.
It was found - among other croziers, rings and chalices - in the tombs of two former Bishops, Richard de Carew (1256-1280) and Thomas Beck (1280-1293).
The exhibition – Thomas Becket: Murder and the making of a Saint - will be among the first to be staged when the museum re-opens to the public on May 17th and will run from May 20th until August 22nd.
It is the first major UK exhibition of the life, death and legacy of Becket, who was assassinated at the altar in Canterbury Cathedral by soldiers loyal to King Henry II in December 1170.
Less than a year later, in September 1171, King Henry made a pilgrimage to St Davids as part of his repentance for Becket's death. This will be commemorated in the cathedral with an exhibition to mark the 850th anniversary of the visit.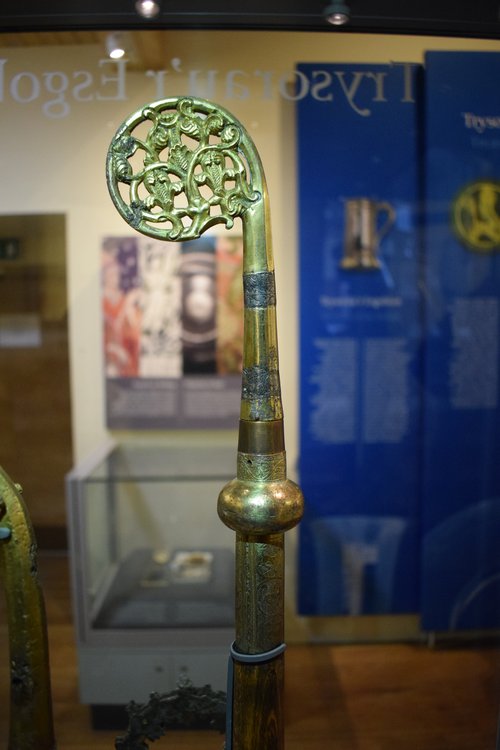 Once the exhibition in the British Museum closes, the crozier will return to St Davids and be put on public display in the Cathedral Treasury, subject to any Covid-19 restrictions that may apply at the time.
The Dean of St Davids, the Very Revd Dr Sarah Rowland Jones, said "The 12th century was an important period in Welsh history, seeing the transition from rule by native princes of Wales to that of the Norman and English monarchy.
"We are delighted to share the history of our cathedral in the mediaeval period, through loaning one of our treasures to the British Museum for a few months. It is a pleasure to contribute to this exceptional exhibition on St Thomas Becket's life, murder and continuing influence."
---
The Crozier's Journey can be followed on St Davids Cathedral social media channels, including on Twitter, @StDavCathLib, on www.facebook.com/stdavidscathedral/, and on www.youtube.com/stdavidscathedral1181