History project wins heritage award for Ysgol Penboyr
Pupils at Ysgol Penboyr in Ceredigion have won an £800 prize in this year's Welsh Schools History Initiative (WSHI) awards.
The awards are made by the WHSI for outstanding, creative and varied research. They acknowledge the excellent work and achievements of pupils of all ages, backgrounds, and abilities from across Wales.  They also highlight the importance of developing cross-curricular skills through studying the history and culture of Wales.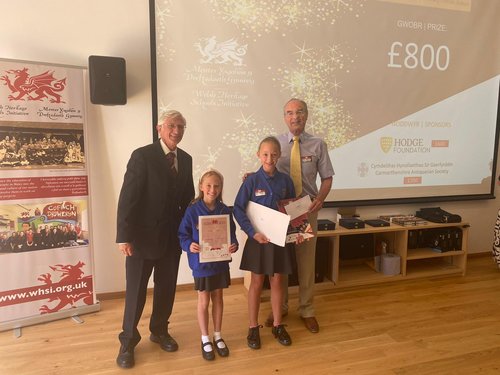 The Ysgol Penboyr project, Llannau'r Filltir Sgwar - The Square Mile, took places of worship within the school's locality as a starting point. Different classes researched different buildings, collecting information from a number of sources. The discrepancy found between different sources led them to question the reliability of the information they found.
They made lots of visits, spoke to many people outside the school such as ministers and guides and visited Penrhiw Chapel at the St Fagans National Museum of History.
Pupils developed their enquiry and research skills and there was very strong evidence of
wider elements of learning. Extensive use was made of technology with numeracy and ICT being integrated into a study of local heritage
and history. These different elements were brought together on a website.

A mock eco-friendly wedding at the end of the project was an opportunity for the whole school to celebrate their learning.
The school has also received a new bench, thanks to pupils from Year 6 (and their parents) as a parting gift - they will be moving up to secondary school in September.
Dr Carol James, their Head Teacher, thanked each and every one of them for their great contribution to Penboyr School and wished them well as they transfer to Emlyn School.