When the Bishop came to tea
Eluned Rees fondly recalls VIP visits to the Vicarage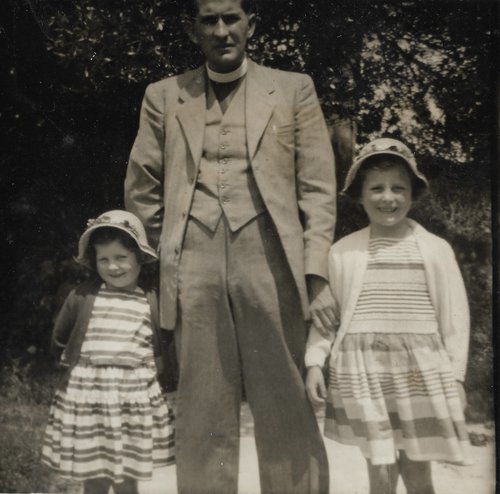 Some of you may be old enough to remember Bishop John Richards, a short, portly person. If you ever watched the TV series All Gas and Gaiters you can easily imagine him.
My sister Enfys and I were Vicarage children and every now and again, usually at Confirmation time, the Bishop would come to visit and it was a very exciting occasion. Looking back, there was a lot of pressure on my mother who had to cook and wait on the guests. Once, when she had filled the multi-plated cake stand and moved it towards the Bishop, the whole thing upended and the contents were showered over him, filling his lap with food. Fair play, he laughed and continued eating.
The Bishop would arrive in a large smart car, with a chauffeur, Dan, a modest, likeable man who refused to join the VIPs for tea in the drawing room but ate the sandwiches and cake in the kitchen. Sometimes the Bishop would drive the car and, as he was so short, oncoming drivers would only see the top of his head and sometimes think there was no driver at all!
Tea time was a very happy occasion for the Bishop who relished his food, as was obvious from his girth. Enfys and I, when very small, would sit on his lap, although there was not very much room. For some reason, he was very fond of us and would share riddles and jokes with us throughout our childhood.
Once, while our parents were at an Induction service in the Llandysul area, we were both reading in the car outside the gate. The Bishop emerged from the church door after the service and walked past the waiting people straight to our car to set us a riddle!
I remember going with my father to the Bishop's Palace at Abergwili for a meeting with the Bishop and, while I sat in the car, the gardener came and asked if I wanted to see the glasshouse where a vine was growing. Off I went with the stranger, a cheerful man, and was amazed at the grapes growing there. I had never seen such a sight. I didn't know that grapes for sale in Carmarthen grew in such close proximity.
Looking back, it's strange to think that the man who was so full of jokes with us children was the same stern, important person that we were taught to call 'My Lord'.
The picture shows Enfys (left) and Eluned with their father, Revd Glyn Alun Williams