The walk that is not just a walk
Like many others in the diocese, Revd Jonathan Parker has embarked upon the COP26 Virtual Pilgrimage and he reflects on the nature of commitment
For me, the commitment is to walk two miles every day to make my way to the Glasgow conference.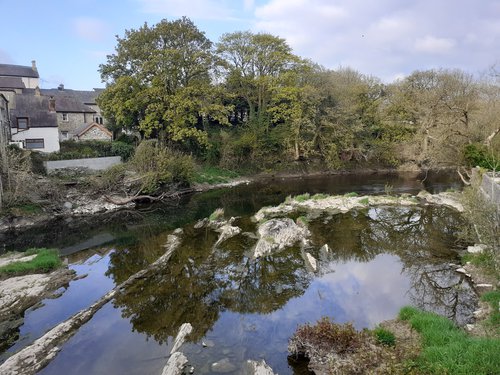 My walk takes me alongside the River Teifi and I have been able to watch the plants and wildlife change as I've walked through winter and spring. Pilgrimage, whether real or virtual, surely must involve some sacrifice and inconvenience as otherwise it's just a walk. I go out each morning at about 6.50 to complete my two miles because I need to be back in plenty of time for the school run at 8. I know however, that if I left the walk until after the school run it would not happen at all as I'm too easily distracted. My good intentions often end in failure as I read a book, watch TV or go out in the garden instead.
I find, though, that one thing that enables me to focus on achieving a goal is if I think that it is for someone else rather than me. The fact that I have made a pledge to complete the walk, and told others about it, makes me much more likely to stick with it than if it was just a personal health kick. Something within me prevents me from sticking to a fitness or health pledge however much I might want to. "I do not do the good that I want", wrote St Paul, and I can see where he is coming from. What Paul called 'sin', I would name more specifically 'sloth'. It is the temptation to do nothing, to idle the day away, to be stationary rather than active that I find hard to resist. Why not have an extra half an hour in bed and miss the walk for a day? No-one would know. But of course, I'd know, and God knows.
In 1 Corinthians, St Paul reminds us that care of self is important since our bodies are temples of the Holy Spirit. By looking after our bodies and health, we show respect for God's creation and we honour the Spirt. However, we must resist the temptation to worship our bodies and make idols of ourselves, or the gym, since this takes us from God.
St Paul was concerned specifically with desire – sins of the flesh, but his broader point applies in the context of self-care: "Do you not know that your bodies are members of Christ? Should I therefore take the members of Christ and [disrespect, damage or neglect them]?"
Whatever we do that damages or defiles our bodies not only harms ourselves but also goes against God's will that we should honour His creation. This applies whether your theology views humans as part of creation or as the pinnacle of creation. We may cause damage by deliberate acts that we know cause harm such as taking non-prescription medication, smoking, drinking alcohol to excess. It may be through inaction such as by not eating healthy foods or taking exercise. Either way we will have neglected our call.
The temptation not to do the things we should and instead to do the things we should not is something we face all the time. Through prayer we can ask for the strength to resist temptation. We can also commit ourselves to action by asking for Christ's support in the tasks we set ourselves, to ask him to walk alongside us. Any goals we set ourselves that contribute to our health and wellbeing show our good stewardship of God's creation and, so long as they are not born out of vanity, honour God. My commitment to the virtual pilgrimage could become a commitment to God. What might yours be? Happy pilgrimage!