The value of peer support
The Plant Dewi Young Parents' Project is funded by the Big Lottery and works specifically with young parents living in semi-rural and rural areas of Carmarthenshire and Pembrokeshire. Vicky Thomas and Carys Davies, Project Workers, explain the peer mentor scheme
Through this project young parents can attend hubs where they can engage in a wide range of activities, connect socially with other young parents in similar circumstances whilst also being given the opportunity to access support and guidance.
A programme of activities provided in the hubs for the young parents range from training sessions, support with budgeting, healthy cooking, craft through mindfulness, language and play, benefit support, interview skills, job application support, educational visits and family day trips. Other professionals also provide sessions and workshops in the hub focusing on specific issues that meet the needs of the young parents.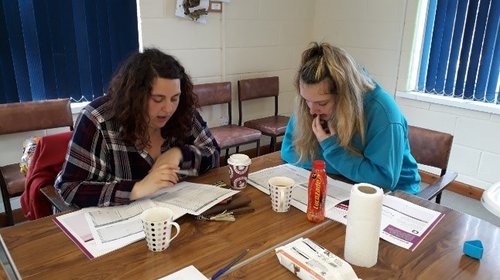 Peer mentoring is an important part of the project; it is an opportunity for young parents to support their peers using their own emotions, their own lived experience and their own unique understanding to relate to each other and provide positive guidance. We never underestimate the power of being able to say "I know what you are going through". Peer mentors evolve naturally from the hubs and are normally those young parents who have gained confidence and then start to take more of a lead by offering to help another parent both in the hub and in the community. Some of them are slightly older parents who stay on to support but there are also some teenage parents who are wise beyond their years.
We have seen young parents go through difficult times in their lives, from homelessness, living with domestic abuse, relationship issues, losing their jobs, loneliness and family breakdown. Having a peer mentor enables them to manage and process their thoughts and worries in a positive way.
It has been a challenging year for everybody and during the pandemic we have had to change the way we work and rely a great deal on social media. Project workers have ensured that all young parents are equipped with the correct technology so that our peer mentors can continue to support their mentees via Zoom, video calls and Messenger.
We are very fortunate that these parents take on this peer mentor role as they provide so much added value to our project by being on hand to support families, just as they were once supported themselves.
For more information please contact us on 07483 966166/07483 966167 or visit our Facebook page: @PDYoungParents