Under new management
The Refectory at St Davids CathedraL re-opened on 1st February under the management of the Dean & Chapter of St Davids Cathedral.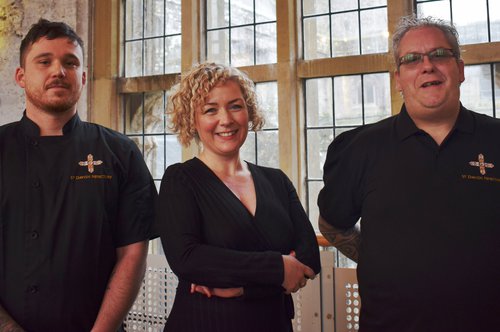 Laura Davies, Retail Manager, says, 'This is an exciting opportunity for us. The Refectory is an amazing modern space inside the historic St Mary's Hall, offering great food for local people and tourists. It also houses a gallery and exhibition area to showcase local art, and we plan to provide regular workspace for local creatives and crafts people to come together to inspire each other.'
Catering Manager Gareth Jones and Assistant Chef Sonny Locke remain with The Refectory and have developed fresh menus. 'We've had a great time working out ideas using locally sourced food for everything, from a light bite to evening meals. We can also cater for private parties, social occasions linked to events in the cathedral and corporate functions,' says Gareth.
"We're delighted The Refectory is now fully part of the cathedral family", Dean Sarah Rowland Jones said. "2022 will be an exciting year for the cathedral, as we also prepare to open our new shop in the centre of St Davids, which will include a café serving drinks and light meals."
For more information, contact Laura Davies on 01437 72020 or 07969 078070
Photo, l to r: Sonny Locke, Laura Davies and Gareth Jones, with Sonny and Gareth wearing the new Refectory uniforms.