The day the king came to visit – in 1171
Wales in the 12th Century marked a shift from the native Welsh princes to the Normans, explains Mari James, Library Development Officer at St Davids Cathedral. In 2021 there will be exhibitions in the cathedral and online showing its role in this shift of power.
On 29 September 1171 Henry II visited St Davids. The previous year, on 29 December 1170, his bitter disputes with the Archbishop of Canterbury, Thomas Becket, had led to Becket's public and violent murder during Vespers in Canterbury Cathedral.
The King's visit to St David's (Menevia) is reported in the medieval Welsh annals, Brut y Tywysogion (The Chronicles of the Princes).
"The king had gone to Menevia on a pilgrimage; and in Menevia the king made an offering of two choral caps of velvet, intended for the singers in serving God and St David, and he also offered a handful of silver, about ten shillings. Then David, son of Gerald, who at the time was Bishop of Menevia besought the king to eat with him on that day".
There are some slight differences in translations, so the 'caps' are sometimes 'capes'. But they all agree that Henry II visited Menevia on a pilgrimage and that it was at Michaelmas, 29th September.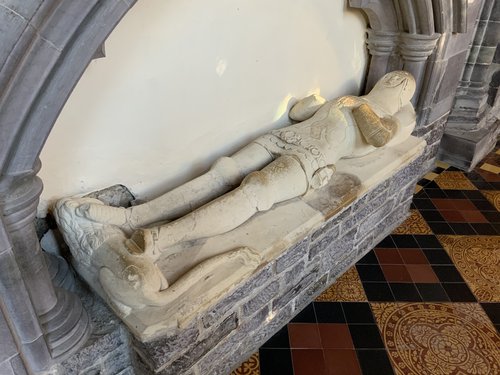 As with any major changes in society and culture, this change was not linear, nor obvious at the time. When Henry II visited, St Davids was one of the major sites of pilgrimage in western Christendom. St David was recognised in France and it was no surprise that Henry, who was Duke of Normandy as well as King of England, would visit the shrine of St David. At the time of the pilgrimage the ruler of the area was Lord Rhys who had successfully conducted many skirmishes with Henry's forces. Arglwydd Rhys, whose tomb [pictured] is in St Davids Cathedral south presbytery aisle, met Henry during the Pembrokeshire visit. Alongside him lies Gerald the Welshman/Giraldus Cambrensis. When Gerald was elected Bishop of St Davids by the Cathedral Chapter, it was Henry II who refused to support this.
An exhibition and series of talks, tours and events will explore what happened before, during and after the king's visit. Depending on the situation regarding the pandemic at the cathedral, these will start after Easter and continue during 2021. There will also information on the website and events online.
To be kept up to date with plans for the exhibition in the cathedral and online, email