Thanksgiving for 100 years of work
On 1st July this year, Jonathan Parker joined members of the Newcastle Emlyn branch of the Royal British Legion to commemorate a notable anniversary
A short, open-air act of prayer and thanksgiving was held for the work of the Royal British Legion in the town, marking 100 years since the founding of the branch on 1 July, 1921. This branch was, therefore, established just a few weeks after the British Legion itself had been formed and so they were determined to mark their centenary.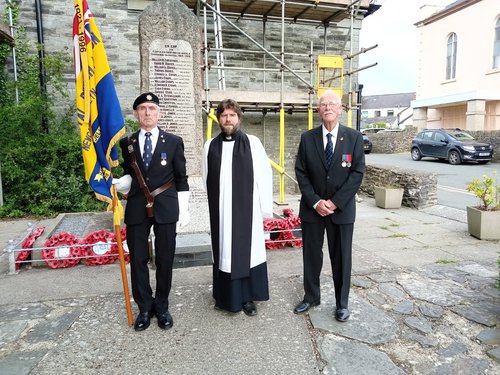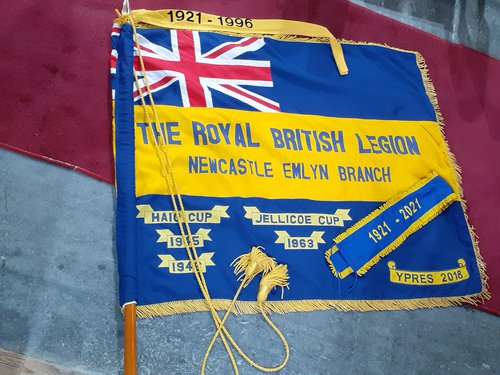 L-R: Standard Bearer Jed Lewis, Revd Jonathan Parker, Chair of Newcastle Emlyn RBL Ken Jones
During lockdown their activities had been curtailed, but they moved meetings online, kept in touch by phone and put their November, Covid-compliant, Act of Remembrance online. To mark the branch's milestone an official pennant, bearing the dates 1921-2021, was added to their standard, at the service, by the town mayor.
Efforts to meet the needs of injured ex-servicemen had begun in many areas of Britain even before the Armistice of 1918. These were often spearheaded by those who had served alongside casualties or had been injured themselves. In Newcastle Emlyn, the Welsh Legion of Ex-Service Men met in the town's Cawdor Hall and later, in January 1920, officially became a branch of The Federation of Ex-Service Men.
By early 1921 it was clear that a single, national organisation would be better able to meet the needs of military veterans and so in May of that year, representatives of the four main organisations met to lay wreaths bearing their badges at the Cenotaph in Whitehall. It was these organisations that then officially united to form the Royal British Legion the following day; May 16th 1921.
For this recent commemoration, I led the prayers at the memorial garden adjacent to Holy Trinity Church. Thanksgiving was offered for the early pioneers whose work inspired others to join their efforts, and for their successors who continue that work today. The millions of people who have supported the work of the Royal British Legion over the last 100 years, was recognised and remembered, too. It was noted that the involvement of the wider community in supporting ex-service personnel is an expression of gratitude, honour and love. God's blessing was asked for the work of the Royal British Legion, which we prayed will continue for long as it is needed.