Talley Valley treasure
In the latest of her series of articles on little gems, Caroline Evans recommends a visit to an ancient Welsh powerhouse
In these disrupted times, for this issue I have chosen somewhere which, while not exactly little, will make a rewarding visit whether the site is open to visitors or not. Six miles north of the market town of Llandeilo in Carmarthenshire, just off the B4302, nestles the village of Talley between steep wooded hills, with streams and the two Talley lakes. Tiny, but Talley was one of the prominent ecclesiastical powerhouses in Wales at one time.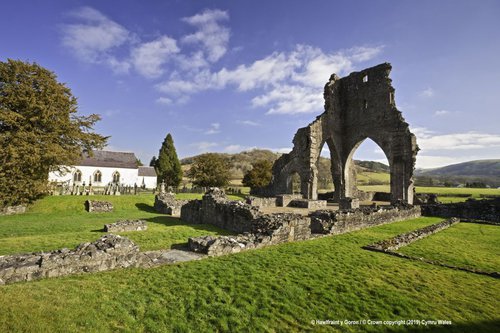 Talley Abbey is the ruined former monastery of the Order of the Premonstratensians [Norbertans/White Canons]. The order was founded in 1120 in northern France and, by the time of Henry VIII's dissolution in 1536, there were 35 houses in Britain with Talley being the only one in Wales. The Abbey of the Blessed Virgin and St John the Baptist was founded c1185 by the Welsh ruler of Deheubarth, Rhys ap Gruffydd. Talyllychau, which literally meant "Head of the lakes", referring to the two water reservoirs north of the abbey, which the monks used for fish farming.
In its long history, the abbey fortunes fluctuated being nearly destroyed by Edward 1 and later in the wars of 1410. The abbey church was conceived as a magnificent building with an eight bay aisled nave, crossing and presbytery. However, straitened circumstances reduced the nave to a relatively modest size when the church was completed, probably in the early thirteenth century. Part was retained to serve as the parish church after 1536 until 1772-3 when the present church of St Michael was built alongside, largely from stone from the abbey ruins, as is much of the village.
Now in the care of Cadw, the Grade II listed ruin features the tower at 24 metres high, and the rest reduced to foundation level. Normally accessed by steps down from the lane, if closed there is still a great view from the lane. There is little interpretive material on display and a mobile phone signal is almost non-existent.
The Grade II listed church of St Michael and All Angels is set in a spacious churchyard and boasts a full set of 1773 oak box pews not affected by the church being Gothicised in 1863 and 1876. Currently open only for services; to see inside call Revd Tim Nelson 01558 685 415.
Map ref SN63SW,
Post code SA19 7AX.