Tŷ'r Pererin
Do you feel the need to get away from it all? 2020 has proved to be a challenging year for us all, so here's an opportunity to refresh your soul as you embark on a journey with your community. Janet Ingram, Education & Pilgrimage Officer at Tŷ'r Pererin, issues an invitation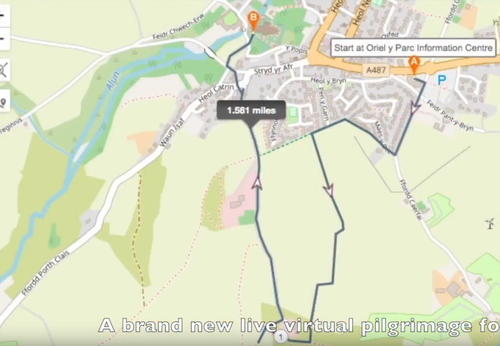 During the summer, we had the opportunity to film a small pilgrimage around the St Davids peninsula, thanks to the technical support of Journeying holiday pilgrimage leader, Iain Tweedale and his son, Edward. The results of this have formed an outline for a retreat day pilgrimage.
This is what's on offer:
I will meet you 'live' with your community on Zoom. You will be taken on a virtual journey to some key places which tell the story of St David; these will also be linked to the themes of journeying and faith. The pilgrimage retreat can be tailored to meet your community's needs, just let us know what you would like. One LMA has decided that it would like to explore an introduction to Advent as the churches in the LMA journey together.
There will be time to listen to scripture and each other; time to explore and reflect privately and collectively as well as time to look with awe and wonder from a different perspective. The pilgrimage can be for two or three hours with some sections of this time on Zoom, some exploring the St Davids Peninsula on video and then some directed time for personal reflection which can be done in your own homes or whilst walking in your own locality. If you have a mixed age congregation, children's or youth activities can be incorporated into the pilgrimage. Activities will offer creative ways to reflect and respond as you grow in faith and deepen your walk with God on a shared spiritual journey.
To get a flavour of what is on offer watch this trailer on St Davids Cathedral YouTube Channel https://www.youtube.com/watch?v=ci7E9nlgcqU&feature=youtu.be Please speak to us about how you can find healing and wholeness in our modern world by tapping into the ancient practice of pilgrimage.
We will also be running a retreat day on Saturday, 20th March, from 10am to 4pm. Finding Inspiration in the Garden of Creation will be led by Revd Sophie Whitmarsh and will explore creation and community. For more information, or to book a place, just get in touch.
www.stdavidscathedral.org.uk Email:education@stdavidscathedral.org.uk Tel: 01437 729151