Supporting refugees in the Aberystwyth area
The charity Aberaid has played its part in welcoming Syrian refugees to Ceredigion since 2015, as Siôn Meredith, a member of Eglwys y Santes Fair, Aberystwyth, reports
Since the end of 2015 about 50 Syrian refugees have made their homes in Aberystwyth. And in spite of some having moved on to cities in England, most have settled and have begun to put down roots amongst us.
As a Christian, I watched the war in Syria, which began in 2011, from afar and with alarm. So many people had to flee from their homes, losing everything, and live in uncertainty and poverty in nearby countries such as Lebanon, Jordan and Turkey. But Wales had an opportunity to do its bit, and groups from Wales were at the forefront of trying to find homes for the refugees and welcomed them to live amongst us.
My faith also drove me on to respond, and with others the charity Aberaid was set up. Most of the refugees came to Aberystwyth under the umbrella of the County Council, but through Aberaid we welcomed two families through the efforts of, and voluntary funding by, the local community.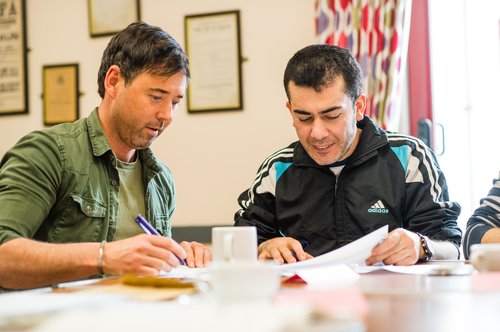 Working closely with the County Council and Red Cross, we have supported refugees to create friendships locally, and have helped them to find work. By now, many of them have learned English fluently and some Welsh, and many are in work. Some of the Syrian women set up the Syrian Dinner Project to share their enthusiasm for food and create an income.
But in spite of the warm welcome given to the refugees, the journey has not been easy for them. It is a challenge to move to a new country where everything is different, and having to learn a new language. Many of the refugees have seen and experienced atrocities, and this has left its mark on them. It was therefore so important that they were given good support and deep friendship.
Mohamad Karkoubi (right) from Aberystwyth enjoying a Welsh language weekend at the Urdd Camp, Llangrannog
It has been a challenge to maintain a close connection during the pandemic but the families have put down even deeper roots amongst us, and the children have grown in number.
Ceredigion now looks forward to welcoming refugees from Afghanistan, and we hope that they too find Aberystwyth to be a safe haven in which to start a new chapter.