Summer School 2021
July 24th to 30th saw all the new candidates for licensed ministry of any kind across the Church in Wales, both full time and part time, begin their training with St Padarn's, as J-D Laurence, Tutor in Mission and Preaching at St Padarn's, reports
Excitingly, we were able to hold the first half of the week in person, and this was achieved (no small logistical feat!) by splitting across two sites in order to maintain social distancing and minimize the Covid risk.
After the weekend's induction sessions introducing the training and safeguarding, the first years had sessions led by me on how to preach, both shaping content and making delivery effective, plus an introduction to leading worship including a liturgical workshop based on Daily Prayer 2009 from Revd Dr Jordan Hillebert.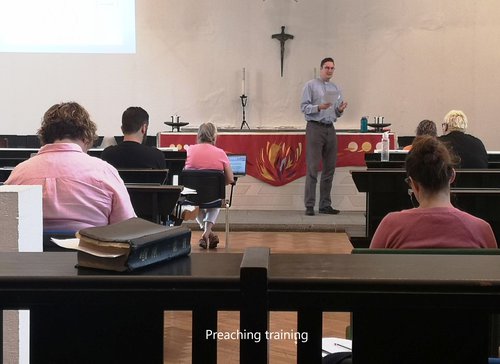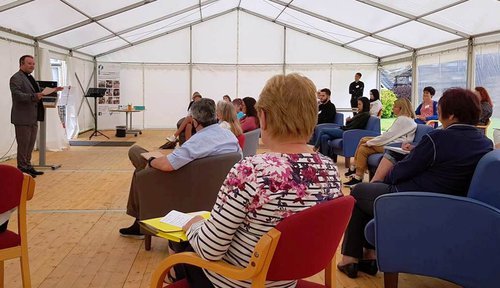 Induction
The continuing students at the other site covered a variety of material under the umbrella Theology and Practice of Ministry, including Sally and Paul Nash teaching on lifespan and transition, loss theory, shame and pastoral ministry, and bereavement. There was also an intensive course on forming and leading new worshipping communities from Chris Thompson, a church planting coach who has just joined the staff as convenor of the pioneer community across Wales.
Amidst the inspiring teaching it was a privilege to spend time over coffee breaks and meals getting to know one another, particularly the brand new candidates, and appreciating again the enormous breadth of people and backgrounds that God calls to serve him in the Church. For the second and third year candidates, it was a chance to see in the flesh those whom they had trained with for a year entirely on Zoom, and there were a few surprises along the lines of "You are taller than I imagined!" or even "You look younger in real life!"
The final couple of days we were back online together as Robin Gamble and the Leading Your Church Into Growth team took the candidates through some thought provoking ideas on how to develop our churches toward healthy growth. Those who had already done this course were in a separate stream of teaching focused on Leadership, with various speakers, including Bishop June, bringing their own expertise. All this was surrounded by worship led both in person and online by staff and candidates, welcoming Bishop Cherry in the final service. Perhaps most significantly, the atmosphere throughout the time in both venues was of excitement and optimism and a clear belief that there are good things ahead for our Church here in Wales!