St Peter's goes Digital
St Peter's Church in Carmarthen is the first church in the diocese, other than the cathedral, to install a contactless donations terminal. Julie Rees, Secretary of the Friends of St Peter's, finds it a simple system to install and use
The project was funded by The Friends of St Peter's Church, to which anyone can belong, and we organise various fundraising events and concerts for the church.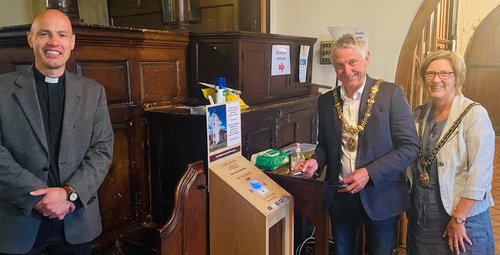 The terminal was officially unveiled in September by the Mayor of Carmarthen, Cllr Gareth John, who said: "It was an honour and a privilege to be asked by The Friends of St Peter's Church to make the first contactless donation via their new terminal".
The contactless system allows visitors to donate a set £4 using their contactless bankcard by simply tapping it onto the reader. If someone wishes to increase their donation, they can simply tap their card again or increase the amount on the card reader. There is also a slot for gift aid envelopes and cash, which will be emptied regularly.
We carried out research into various contactless terminals, but the company PayACharity was recommended to us. Their contactless terminal appeared simple to follow and easy to use, which is exactly what we wanted. When we started the project in 2019, little did we realise at the time how significant contactless payments would become.
Canon Dr Matthew Hill of St Peter's Church said, "This contactless payment system was much needed before Covid-19 but is essential now given that so few of us are using cash at the moment. St Peter's are very grateful to The Friends for funding the paypoint and to Mr Nigel Evans for setting it up".
The project cost The Friends £820, this included £425 to purchase the branded wooden stand (PayACharity also hires the stands if you do not wish to purchase) and £395 for the contactless card reader terminal. The Friends have also agreed to fund the monthly payments of £34.95 for 24 months - the monthly fee is for the sim card, which is placed inside the card reader and very similar to a mobile phone contract. The sim card allows the donation to transfer into the merchant account, which then gets deposited into the St Peter's Church account.
Like every other church and chapel, donations have dramatically decreased but we have every hope that the new system will help provide a much-needed financial boost when church doors are able to re-open safely.