St James and the Camino
25th July is the Feast Day of St James, and, this year, was celebrated with a mini-pilgrimage to St Michael's Church, Llanfihangel Rhos-y-Corn, in the Brechfa Forest, Carmarthenshire. Caroline Evans reports from a day of celebration and reflection
The pilgrimage was organised by the Wales group from the Confraternity of St James (CSJ), the apostle who became the inspiration for the Camino: the pilgrimage to Santiago de Compostela.
Following James' beheading in Jerusalem, the saint's body was returned for burial in Galicia, Spain, where he had spent time preaching but his actual burial site was never recorded. Many centuries later, a hermit reported seeing dancing stars above a field; bones subsequently dug up in the field were declared to be those of St James. From the 9th century, pilgrimage to the site began and is now the city of Santiago de Compostela (St James of the field of stars).
While up to two thirds of all Europeans made this pilgrimage in the middle ages, numbers dwindled to a few thousand in the 1960s. In recent years, this pilgrimage has seen a huge resurgence, sparked in part by films, books and the way-marking by Don Elias, (a priest who painted yellow arrows along the main Camino route in the 1980s). For Santiago pilgrims, it is often the journey itself as much as the destination that gives greatest fulfilment.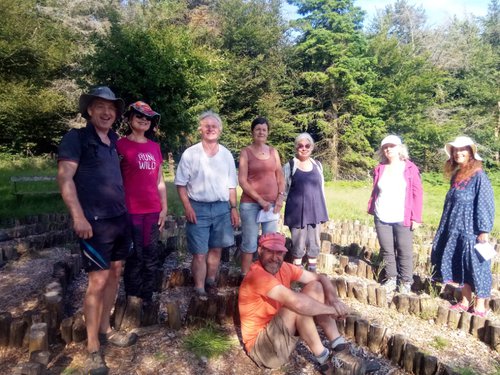 On this balmy Sunday afternoon, eleven of the Confraternity walked from Crugiau Edryd across the high moorland of Llanllwni mountain, on through Brechfa Forest to Rhos-y-Corn, and back. Following refreshments at the church, the group gathered with the Priest in Charge, Revd Roger Nock, by the labyrinth in the field next to the churchyard and held the service of celebration which included sharing and blessing treasured memories and lessons learnt from undertaking the Santiago pilgrimage, with poetry, prayers, singing and walking the labyrinth.
The CSJ has groups all over the UK that provide information, advice and supportive communities for pilgrims before and after a Camino pilgrimage, as well as for anyone else who has an interest in this particular pilgrimage. There is no fee to join the Wales Group. It's quite informal and you can dip in and out as you please.
Jonathan Gaunt is the Wales Group representative, hosting monthly Zooms, pilgrimage related walks on the last Sunday in each month, devising monthly news bulletins and giving talks. For more information email:jonogaunt@aol.com, tel: 01559 371427 or visit https://www.csj.org.uk/.