St Clydai's Church
Anne Eastham and Caroline Evans find another little gem in Pembrokeshire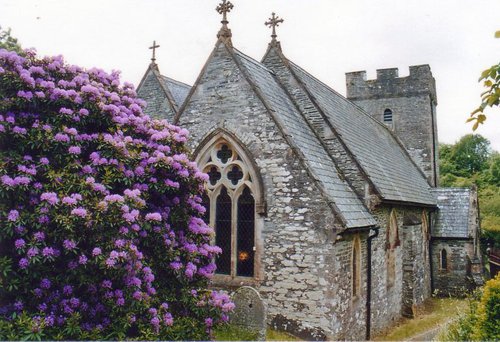 On a mound above the River Cwmneifa as it flows down to join the River Cych south of the confluence with the Teifi at Abercych, the site of Clydai church, (Clydey on OS maps ref SN2512 3547) can claim a record of Christian involvement back to the early 5th century AD. It is situated within a curvilinear churchyard, very close to the line of a possible Roman road. The dedication to St Clydai, one of twenty four daughters of Brychein, Irish bred ruler of Brecon in the late 4th–early 5th century AD, is the only church of this name.
This Grade II listed building probably originated in the 15th century, with a tower, nave and single aisle, much of it rebuilt somewhat insensitively in the 1880's. However, it retains many important, original features and has all the atmosphere and charm of a simple North Pembrokeshire country church, the focus for the community and its history.
Beside the door on the north wall a three-sided holy water stoup under an arch is flanked by two carved heads in a style seen in some of the early Celtic head-cult images. Three early medieval memorial stones housed in the church were found in the churchyard and belong to the late 5th or early 6th centuries. One, ECMW 307 of local dolerite was first recorded by Lhuyd in 1698, inscribed in Latin and Ogham scripts with the name of Solini Filius Vendoni, is placed against the west wall of the south aisle. The second stone also of dolerite is close by and reads in Latin and Ogham, Etterni fili victor. The third stone has a more chequered story: from a recumbent position in a small chapel in the churchyard it was at one time part of a flight of granary steps at the nearby Dygoed farm. The inscription reads Dobtuci filius evolengi. However some time later, probably in the 8th century, a finely drawn ring cross with cross of arcs was inscribed vertically onto the horizontal inscription.
Clydai/Clydau church is at present only open for worship but is well worth a visit, embedded as it is in a splendid countryside close to an historic landscape. It is advisable to contact Elizabeth Law (01239 698607), one of the churchwardens, before planning your trip.
What3words: cups,smoker,differ.
Picture: © Frenni Churches https://frennichurches.org.uk/clydau