From Sri Lanka to Wales via the world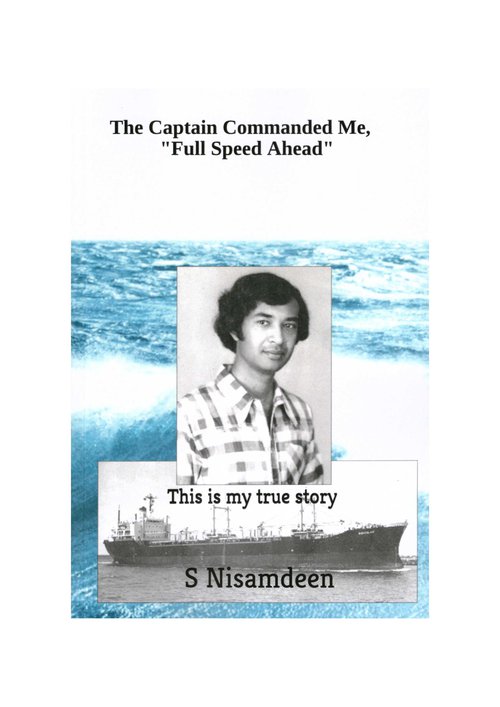 The Captain Commanded Me, 'Full Speed Ahead'
By S Nisamdeen
Pub: Amazon; 2020
ISBN: 979-8-68166-940-1
Price: £12.95 plus p&p; Kindle edition £8.00
---
Nisamdeen's autobiography takes us from his Muslim childhood in a remote Sri Lankan village, to working as a community psychiatric nurse in Newtown, Powys. Along the way we voyage with him across the oceans of the world during his time as a sailor. He takes us to communist East Germany, the capitalist USA, pre-revolutionary Iran and to Bible College in Bangalore. He gives a sense of being guided to a particular destiny or purpose by God and his trust in God and people are rewarded time and again. The fact he always seems to meet the right person when he most needs help or guidance is commented on by others. Nisamdeen has taken his father's advice to be, 'good to people, accept their way of life, do not forget to respect them, be kind, loving [and] helpful' as his rules of life.
Nisamdeen paints vivid descriptions of his childhood, his voyages as a merchant seaman and of natural and urban scenes which those who like travel writing would enjoy. There are incidents of adventure including a terrorist blast in Beruit, steering through the Suez Canal and of using people smugglers in Iran. Though he was refused permission to disembark in Liverpool in 1977, Nisamdeen later became a British citizen and a qualified professional in the NHS.
Although most of the book is engaging it would have benefitted from firmer editing. The chapters are uneven in length, too much detailed information about countries breaks up the narrative and I found myself skipping over the lists of names.
This journey to Christian faith and the safe harbour of a home in Newtown is interesting and Nisamdeen's faith in God, his captain, is expressed on almost every page.
Revd Jonathan Parker