Saving sight in Yemen
In one corner of a country ravaged by war, interfaith collaboration brings hope to the poor, says Ven Dr Bill Schwartz, Archdeacon in the Diocese of Cyprus and The Gulf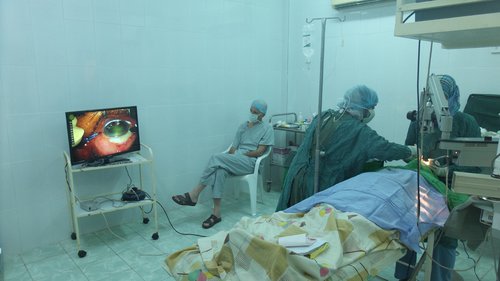 The Ras Morbat Clinic, in Aden, Yemen, offers the full spectrum of eye care to those who cannot afford treatment in the normal clinics. It operates out of the Christ Church compound, staffed entirely by Yemeni Muslims who are very proud to serve their society with the support of Christians from all over the world, testifying to God's blessing in their lives through their participation in this compassionate ministry. We enjoy excellent relationships with the Yemen Ministry of Health and Aden University Medical College, whose students sometimes serve short internships at our clinic.
In the years before the war began in 2015 the staff operated remote clinics in local schools, in the UNHCR refugee camp outside Aden and in different village locations where eye care is not readily available. Now, because it is not safe to transport expensive and delicate diagnostic equipment, the UNHCR administration and the Yemen Society for the Blind each bring patients to the clinic once a week for treatment.
The Ras Morbat clinic was only closed for a couple of months at the beginning of the war, when shelling hit the local neighbourhood, but we were able to open immediately after the fighting moved away and have been functioning fully and smoothly ever since. During the fighting in and around Aden our clinic partnered with Medicins Sans Frontiers in treating head and eye wounds originating from fighting and the mines left by the retreating factions. Unfortunately, many of these patients were children.
The clinic usually sees between 50-65 patients daily with two days featuring surgery for cataracts and glaucoma. The financial support of Christians in the UK helps cover the staff salaries and operational costs and allows the church to offer care that costs the patient only the consumables involved in their treatment. For instance, surgery to remove a cataract is charged the equivalent of US$75. Pharmaceuticals are charged at cost price. This not only makes treatment more affordable but also allows the patient to maintain personal dignity.
We look forward to the restoration of peace and civil order and the anticipation that Christian medical staff will again be able to join our medical team in serving the poor in Yemen. The staff are very conscious of the prayers of Christians from all over the world, and they are confident of God's blessings on their work because of your prayers.