Resources for the enquiring mind
There is a renewed interest in saints and pilgrimage among people who don't go to church. Anne Richards describes an ecumenical project which reaches out to those who would like to explore the ways God works in the world
One of the things we have discovered from research into the spirituality of the 'spiritual but not religious' sector is that people are often fascinated by myths, legends, folk tales and miracle stories that can surround holy men and women. Younger people, steeped in TV fantasy series, enjoy discovering ancient buildings, holy wells, the wildness of the countryside, spiritual 'quests' and all things mystical and intriguing. Our website, www.spiritualjourneys.org.uk, has requests from all kinds of people asking us to suggest good places to walk to and visit and we are only too happy to oblige!

The Mission Theology Advisory Group, has put together resources for a new project: Ancient Wisdom, Modern Mission. Although we had only concluded the first, on St Andrew, when Covid hit, we hope to roll out a whole range of resources on different saints to encourage people to visit churches and pursue walking routes and tourist interests like art and architecture. This first resource can be found in its entirety at https://www.churchofengland.org/resources/deeper-god-mission-theology.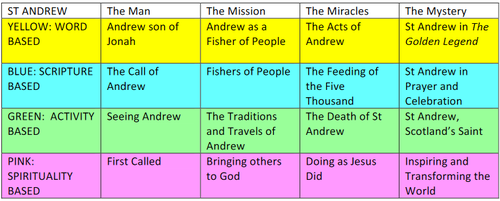 Each resource has four different journey types which can be used to interest church groups to hone their outreach or to intrigue people into finding out more about those saints and the churches dedicated to them. The four journeys are (yellow) word-based – for people who like to read, reflect and think about questions; (green) activity-based for people who like to do things or look at pictures or do research; (blue) Bible and prayer based, for people who like to engage with Scripture and pray (perhaps by putting on a day of Bible study and reflection); and spirituality-based (pink) for people who like to think about how engaging with the subject helps them grow in discipleship, start out with Jesus, go on a pilgrim walk, or generally change in some way. The journey segments can be mixed and matched according to preference. They are also arranged by information about the saint, their mission, the mysteries associated with them and the miracles they performed.
The 16 sections can be used as a basic template for any saint and to make your church interesting as a stopping-off point for walkers, tourists and spiritual seekers. Have a look and have a go. For help, contact anne.richards@churchofengland.org