Remembrance of the past, hope for the future
As the Royal British Legion marks its centenary, Jane Rees, from St Clears, looks forward to the resumption of normal service
St Clears branch wishes the Royal British Legion (RBL) a happy and successful 100th Birthday this year. We remember how four ex-servicemen laid a wreath at the Cenotaph in London's Whitehall after WW1 to form the Royal British Legion, with the Prince of Wales as Patron.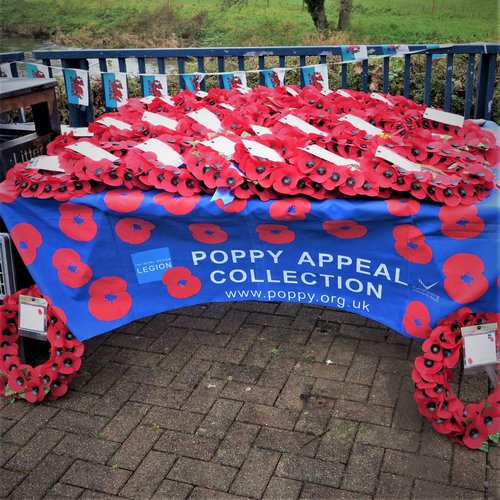 Today, as then, we raise funds for the Poppy Appeal - thanks to dedicated volunteers and generous communities - to support veterans who fought, died and returned from WW1, WW2 and recent conflicts, and their families. The Poppy is recognised as a symbol of hope for a positive future and a peaceful world with our Queen as Patron.
St Clears branch of the RBL has been in existence for over 75 years and we meet on the fourth Thursday of each month, at 7.30pm, at Pwlltrap. Members of our committee are Standard Bearer, John Mycroft (also Secretary); our current President, Geoff Morse; Chairperson, Jane Rees ; Vice-Chairman, Roy Downer; Treasurer, Andrew Jenkins; Parade Marshall, Thomas Eynon; Poppy Appeal Organiser, Roy Watkins; Padre, Ven Dorrien Davies
Due to the pandemic we have been unable to officially meet since March 2020. However, we have adapted to reach out to our community by using live streaming on our Facebook page and YouTube to broadcast various services from our War Memorial, supported by St Clears Town Council during the year - including our November Services of Remembrance with wreath donations from local businesses and organisations and the 100th RBL Anniversary. We have continued to contact our members by email, telephone and supporting our vulnerable members who have been self-isolating/shielding.
We plan to resume meetings soon and look forward to meeting on Armistice Day (Thursday, 11th November) and on Remembrance Sunday (14th November) with the Act of Remembrance bringing our community together at St Mary Magdalene's Church, St Clears, with the parade and wreath presentations at our War Memorial.
We hope 2022 will be a year of better health and hope, with a Poppy Family Fun Day supporting the Platinum Jubilee of our Patron Queen Elizabeth II and the greatly missed Poppy Ball!
Keep well everyone...and please support your local RBL branch as we move forward safely together. Diolch yn fawr am eich cefnogaeth!