Remembering as renewal
Remembrance can be painful, writes Lyn Dafis, but not remembering can cause even greater pain. We recognise this as individuals and communities because when officially-sanctioned remembering is denied, people create their own.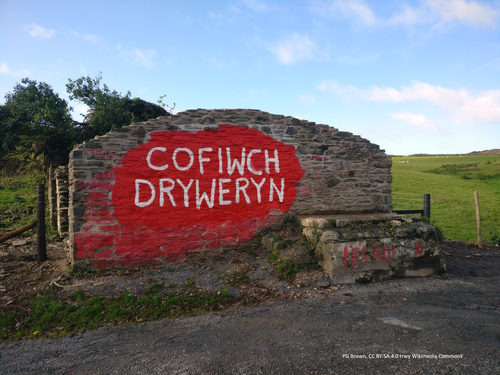 Over the past year, the words 'Cofiwch Dryweryn' (Remember Tryweryn) have reappeared in paint on walls across Wales. Tryweryn stands for the Welsh-speaking community of Capel Celyn near Bala, whose residents were moved to create a reservoir to supply water for the city of Liverpool. They first appeared on walls in the 1960s when the event faced near-unanimous opposition in Wales. Their reappearance may suggest that there is some hope that remembering the loss will empower today's Welsh-speaking and rural communities in their struggles for survival.
In wars and conflicts, the intentional undermining of people and communities' ability to remember is a common weapon. Individuals' identification papers are taken away from them. People are 'disappeared'. Libraries are burned and bombed. Cultural artefacts and historical sites are destroyed. In defeat, people and places are renamed, cultural and linguistic differences are suppressed, and their religious practices are prohibited. The ability to remember is one constant in people's lives that gives them some sort of safety in the middle of trauma, and the victor knows that he must eradicate these things to keep control.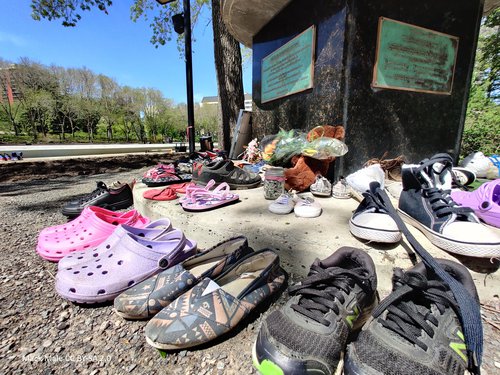 Perhaps one of the saddest examples of the attempt to suppress remembering that has come to light recently is the discovery of the unmarked graves of hundreds of indigenous children at former residential schools in Canada. Indigenous children were sent to these schools to have their history, culture and language taught out of them. To be stripped of the very tools they needed to remember and understand who they were. It is to our shame that Christian denominations ran these schools on behalf of the Canadian state.
The immediate reaction to the sombre discovery was the spontaneous creation of memorials. These took the form of pairs of shoes left in front of government buildings. Remembering was the first step in coming to terms with the pain that communities and people still suffered. Remembering in such a visual way was also a means of making those that had conveniently forgotten to face their responsibilities.
Remembering should be a way to recovery—a step along the path of putting things right. The past is remembered for it to be redeemed and become the means of renewal and healing, leading to new life and purpose.