Remembering Jemima - a famous victory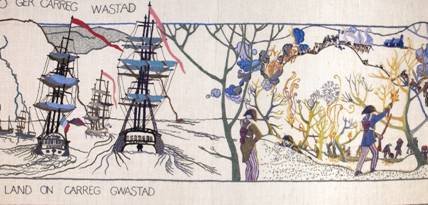 This year marks the 225th anniversary of the last invasion of Britain by hostile forces, on the coastline near Fishguard. Naturally, the town plans to celebrate
In February 1797, Britain had been at war with France for four years. On the night of the 22nd, an army of 1400 French soldiers landed at Carreg Wastad Point near Llanwnda, about five miles west of the town. The invasion did not go well.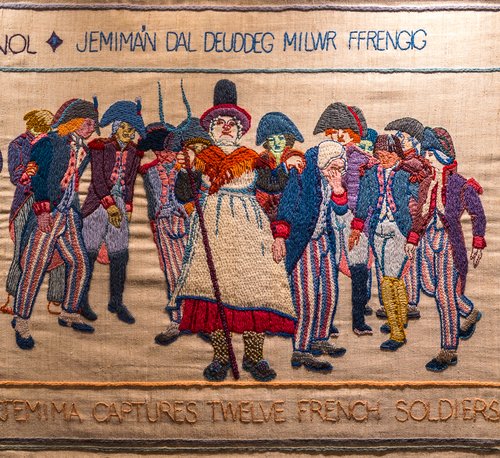 The French were met by a force of several hundred local militia, backed up by civilians including bands of women dressed in scarlet shawls and tall black hats, resembling soldiers They gave the impression that the defence force was much larger than it was. One of these was Jemima Nicholas who, legend has it, captured a dozen French soldiers and imprisoned them in St Mary's Church in Fishguard.
A day later, the French surrendered unconditionally in the Royal Oak, an inn on Fishguard Square, and the town has dined out on the story ever since.
This year is no exception. The Fishguard Invasion Centre Trust – a charity set up following the bicentenary in 1997 - is organising a varied calendar of events to commemorate the 225th anniversary. There will be something of interest to the whole community – a grand military parade, live drama and music at Theatr Gwaun, Jemima's party for children, a Twmpath Dawns and last invasion quizzes in the Royal Oak.
There will also be guided tours of the award-winning 100-foot tapestry created for the bicentenary by the local community (https://lastinvasiontapestry.co.uk/). A Last Invasion illustrated talk by Edward Perkins will also be available to view online and will be presented at Theatr Gwaun later in the year.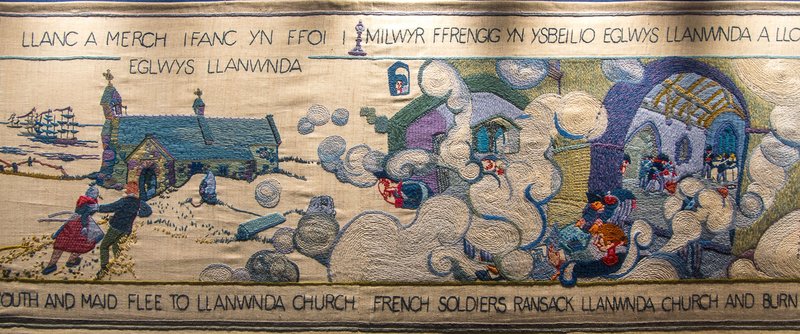 Fishguard has always celebrated its famous victory. Welsh-language ballads captured immediate reactions to the events of 1797, from the angry elderly minister who saw the invasion as God's punishment on an unruly flock, to the anonymous writer flamboyantly cataloguing the misdeeds of the rheibus elynion cythreulig, ysglyfyddwyr mileinig, sef Ffrancod ('voracious, fiendish enemies, savage plunderers, namely the French').
Another vividly celebrates the local communities who supported the 'honest soldiers of Fishguard':
Gwŷr Trefdraeth ar ôl hynny a gadwai ymlaen yn glos
A llawer iawn o Hwlffwrdd rows ysgwydd dan y gro's;
A'r morwyr glân o Hagan a'r coliers chwerwon du
A llawer mil o'r Cymry ddilynai'r arfog lu
[The men of Newport after that tightly pressed on
and a great many from Haverfordwest put their shoulder under the cross
and the honest mariners of Hagan and the surly black colliers
and many a thousand of the Welsh followed the armed host]