Positives and negatives
Jeremy Martineau considers the ramifications of the influx of visitors to the North Pembrokeshire during the pandemic restrictions
One positive impact of Covid-19 regulations has been the surge in UK residents taking their holidays in the UK instead of seeking the sun in the Mediterranean. Evidence for this includes data from a visitor survey conducted in North Pembrokeshire and analysed by the two Italian interns working for North Pembrokeshire Trade and Tourism. They come from Bergamo University where their course in tourism management is taught in English. Over half of the 350 completing a short survey were first time visitors to the area, predominantly aged 20-39. That they came declaring the need for a rest and looking for fresh air and open spaces could convert them to being repeat visitors. This age group showed less interest in visiting the cathedral or castles, but were equally keen to walk the coast path as other age groups.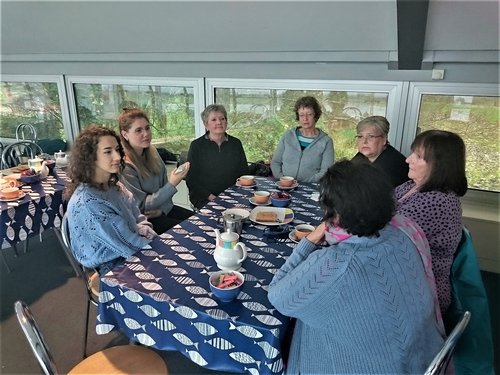 Our two interns, Mara and Silvia, seen here with a focus group discussing the importance of cultural heritage, have also been interviewing businesses. Most recognise the importance of social media in promoting their business, but have too little time or expertise to spend the few minutes each week that would be needed. Few have yet to seize the opportunity of on-line trading. The difficulty in finding suitable staff is shared across the country, and made worse by a rapid increase in city dwellers buying property in low cost areas like Fishguard, which has experienced 300 new residents registering with the Health Centre in the past 12 months. House prices, already above the reach of local people on local incomes, are now well out of reach, creating a huge problem for many communities. Pembrokeshire's decision to charge double council tax on holiday homes will make little impact, it is feared, although that income is put into a useful fund for local projects.
As North Pembrokeshire plans for 2022, the return of cruise ships will be welcome, especially if they use the new opportunities for guided walks and boat trips from Fishguard Bay. We hope that Covid regulations will permit churches to be open for visitors again, as that is an important part of the experience for many.
The new brand for Visit Pembrokeshire is welcome as it reflects the focus on wellbeing and the special character of all parts of this beautiful county.