Pens and iPads: a different look for Libraries' Week
Libraries Week looked a bit different for the St Davids Cathedral Library in 2020, explains Mari James, Library Development Officer at St Davids Cathedral. Yet it had around 10,000 attendees a day
This year's UK Libraries Week took place from 5th to 10th October. Each day St Davids Cathedral Library posted one, and sometimes more, videos on our YouTube Channel. These augmented with material on Facebook and Twitter @StDavCathLib.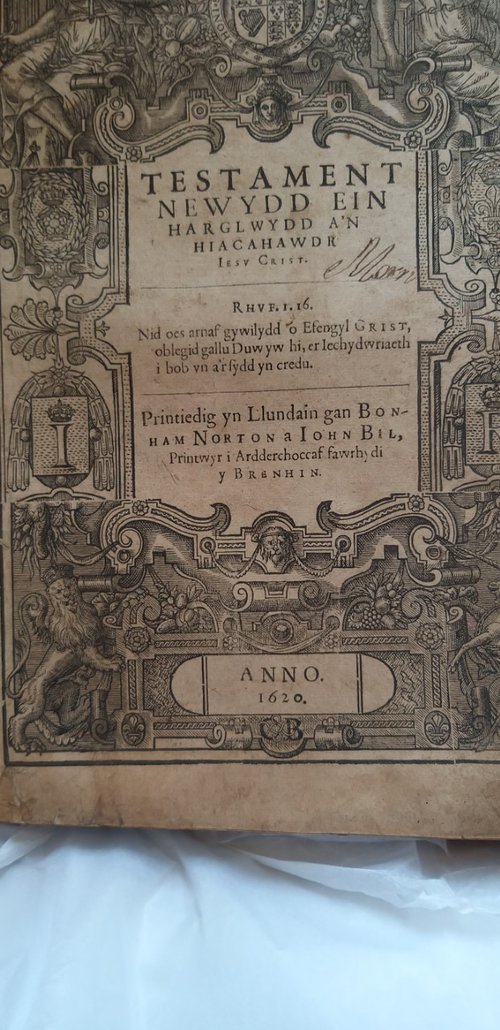 The Dean, Very Revd Dr Sarah Rowland Jones, started the week in style with a filmed introduction to the programme.
Monday gave us a news story about a previously unknown copy of the first Bible in Welsh [pictured] which was produced and then distributed to all churches across Wales. 400 years old, this 1620 Bible was found in a cupboard in Ysgol Dyffryn Taf School in Whitland and they brought it to us on a school visit. The school has made videos of the story in Welsh in English. This breaking news story was also on BBC Radio Cymru's Post Prynhawn as good news in the middle of so much bad at the moment.
On Tuesday we heard from Dr Heather Payne on Not Unprecedented? The Coronavirus Pandemic of 2020, exploring Richard Mead's Discourse concerning Pestilential Contagion 1720. Dr Payne had visited the Cathedral Library in September, when travel was allowed, and looked at some of our old medical books. One 300 year-old volume described the current Covid-19 pandemic almost exactly, including safety measures such social distancing and face masks which were used successfully even then.
At 2.30pm every afternoon viewers followed a series of programmes by Prof Norman Doe of Cardiff University's Centre for Law and Religion, who looked at the 1505 printed version of a book originally written in 1433 by Bishop of St Davids, William Lyndwood. Norman showed how Lyndwood's perceptive canon law commentary has been used in every century since his work was published.
On Thursday we were grateful to S4C and Rondo Media for permission to use two clips from their Cynefin programme on Tyddewi from February 2020, which was the first time TV cameras had ever been inside the Cathedral Library.
All the videos from Libraries Week are still available on our webpage at: https://www.stdavidscathedral.org.uk/discover/library
During current safety restrictions the library is not open to the public. Any groups, or individual researchers, who would like to make a virtual visit, or join us for a group visit on 9th December, should e-mail me: Library@StDavidsCathedral.org.uk