Open the Book at the Chelsea Flower Show
Alison Ford, from Newcastle Emlyn, has a great day out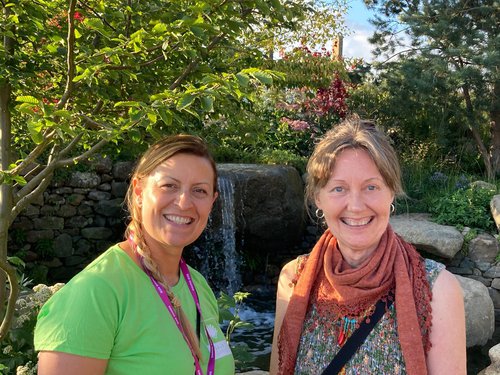 This year at Chelsea, the Bible Society exhibited a garden inspired by Psalm 23. Ancient though this psalm is, it could have been written for our times as we try to find our way out of the pandemic. The garden was conceived to launch a nationwide campaign to see community gardens created based on elements from the psalm - gardens which might bring comfort and tranquillity to our local communities. As part of this campaign, Bible Society's Open the Book team has created several resources for schools, one of which was a poem based on Psalm 23, and written by Bible storyteller and author, Bob Hartmann.
Throughout the pandemic, Newcastle Emlyn Open the Book team has been making bilingual video assemblies for local primary schools. As a result of which, the team was asked to create a pair of animated videos (English and Welsh) to accompany Bob's poem. By way of a thank you for our efforts, we were invited to visit the Chelsea Flower Show and see the Psalm 23 garden. It was a wonderful day out!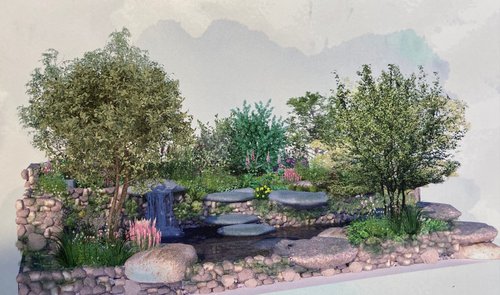 Designed by Sarah Eberle, the garden scooped a gold medal for the Best Sanctuary Garden and also won Best Construction Award (Artisan/Sanctuary Garden). Talking to the press, the designer said, 'The response we've had from everyone is that it touches their souls'. The door is now wide open for people across the country to create biblical gardens of their own as a blessing to their communities. We hope that many will pick up on the idea.
Open the Book is a programme whereby teams from local churches and chapels visit local primary schools to bring them Bible stories in a fun way. There is plenty of scope for more Open the Book teams in our diocese. Training and resources are available for anyone who might be interested in getting a team together. For more information, please just get in touch with me: Alisonemford@hotmail.com
Picture (top right): Alison Ford, pictured right, with Kerry Evans, Head of the Bible Society's Open the Book programme.