One 'national treasure' visits another
An old friend has been welcomed back to St Davids Cathedral after many years, explains Mari James, Cathedral Library Development Officer.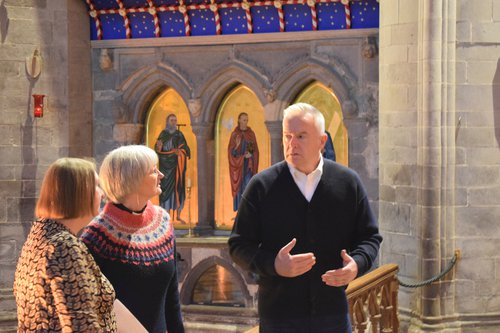 Well-known Llanelli boy and BBC News Presenter Huw Edwards has visited St Davids Cathedral again as part of a special programme on St David which was broadcast on S4C's Dechrau Canu Dechrau Canmol on Sunday, 28th February. The programme followed several events and visited locations around the diocese associated with St David's life, including Llanddewi Brefi, Aberarth, St Non's and St David's.
I spoke to Huw when he was here filming in the Cathedral Library, and asked him a few questions.
What has been your main impression of St David's Cathedral when coming back after a few years?
My first thought was "Yma o Hyd", our Welsh expression for "Still here" that conveys a sense of resilience and comfort through history. There is such a wonderful sense of timelessness and spirituality as soon as you walk into the cathedral. It brought back memories of my childhood visits with my family, as well as many broadcast visits.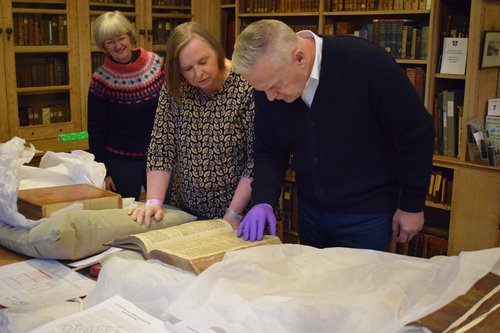 What do you think of as the most interesting and special part of the Cathedral?
The cathedral as a whole is such a powerful symbol of the Christian life of Wales since its origins in the 6th Century. Trinity Chapel is a very special space. But the Cathedral Library itself is a real national treasure. To be with the thousands of rare books in this space from 700 years ago was a delight. I could stay for days just in the library! And it was a real thrill to be able to read the Christmas story from an original 1620 Welsh Bible in the year of its 400th anniversary.
What has Dewi Sant/St David meant to you in your life?
Dewi Sant is the symbol of our nation of Wales as a Christian leader and a scholar in difficult times. His message from the 6th Century is still amazingly relevant to us today, not least in these challenging days of global pandemic. At the moment we all need to be joyful, keep the faith and do the little things in life. It is extraordinary to feel the enduring spirit of place where St David worshipped his God and ours. I look forward to coming back.