O'er the Gloomy Hills of Darkness
Mick Dean, Diocesan Property Officer, considers the life of William Williams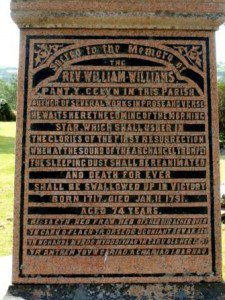 William Williams Pantycelyn has popped up many times in my life. He was frequently quoted throughout my schooldays, and I think I even mentioned his works during my final exams at university. So, many years later, it was a strange coincidence to find myself with an hour to spare on a spring Saturday afternoon just outside Llandovery, and wandering into St Mary's church at Llanfair-ar-y-bryn, which is the final resting-place of Mr Williams, who is possibly most famous for being one of the founders of Methodism.
O'er the Gloomy Hills of Darkness was written by William Williams in 1772. Originally penned in his native Welsh, the hymn followed a missionary theme with an abolitionist stance. It was reported to be the hymn of choice for freed slaves from America, who sailed to Sierra Leone in a well-meaning, but unsuccessful, attempt by the Clapham Sect to create an African homeland in 1787.
In the early 1800s a rumour arose that Williams' gloomy hills of darkness actually referred to the ruined Cistercian abbey set among the mountains of Margam, near Port Talbot (interestingly, the ruins of an associated abbey chapel can be seen in the hills from the M4, if you look directly above Margam Park). We know that the small village of Pontrhydyfen, located five miles north of Port Talbot, was often visited by Williams as it was considered a hotbed of Methodism during the mid-late 18th Century revival, so this rumour could well have some truth in it.
Williams' influence in establishing and promoting Methodism had a huge impact on Christianity. He was also a champion of promoting culture, education, and equal rights for all. Williams was considered a celebrity of his time (albeit an unassuming and pious one), but it is interesting to note that even though he was often considered a thorn in the side of the established Church, with his unorthodox viewpoint and preaching styles, he was buried as an Anglican in St Mary's church, within the sleepy hamlet of Llanfair-ar-y-bryn.