Not just a garden
The Men's Project at Pembroke Dock benefits the whole community, says Christina Jenkins, Acting Manager of Plant Dewi
Plant Dewi is very pleased to have received funding from The Welsh Government's Landfill Disposal Tax Community Scheme, (LDTCS) to support our Men's Project in Pembroke Dock.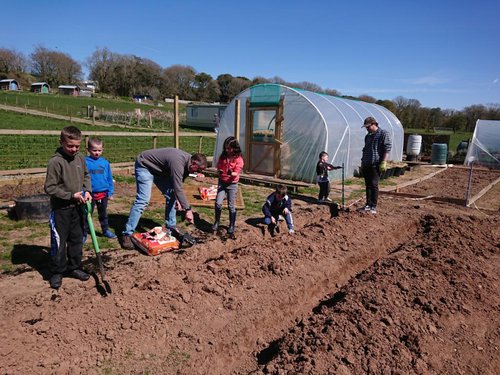 The funding will support fathers in the community to create a green space that supports the production of food for our local foodbank as well as a number of environmental and refurbishment projects to enhance the Pembroke Dock area. The project is also supporting the improvement of green spaces and biodiversity in the locality, volunteers are involved in the development and maintenance of the project.
Theri Bailey, Manager of Pembrokeshire Foodbank, said, "The Pembroke Dock Centre team of the Pembrokeshire Foodbank have been absolutely delighted to receive fresh veg, grown by members of the Plant Dewi Men's Project, so they can help distribute the produce to those in need. The partnership between the Pembrokeshire Foodbank and Plant Dewi has grown from strength to strength over the years with volunteers from both organisations helping one another with hands on initiatives that build community and support individuals with necessary food and life skills".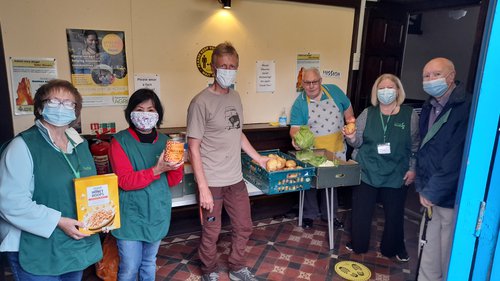 <The first batch of produce is delivered to the foodbank
The Plant Dewi Men's Project is based at The Hub, 52 Dimond Street, Pembroke Dock and provides a place for men to have a chat and some food, have a laugh together and meet some new mates. Importantly the men support one another, strengthen relationships in the home and the community, learn new skills, and participate in practical activities that support the community. Our Dad and Me sessions provide opportunities for fathers and children to spend time building relationships and memories together.
The garden provides a variety of practical activities as well as opportunities to build, create and participate in outdoor craft. Fathers can take away produce grown in the garden. Fathers can join in the project activities with or without their children and can ring for a chat using the contact details below for more information. Volunteers are always needed to help maintain and develop project activities.
Visit our Facebook page, where you can also message us or call Peter on 07507 687807 to get in touch.