Linking loos - Reaching out to the world's poorest
Through Tearfund's Toilet Twinning scheme, a successful coffee morning was held to raise funds for toilets in Uganda and Afghanistan, as Rhian Lloyd Byrne, warden of St Tygwydd's Church, Llandygwydd, and Anne Beman, Assistant Curate in the Maenordeifi Group of Churches, report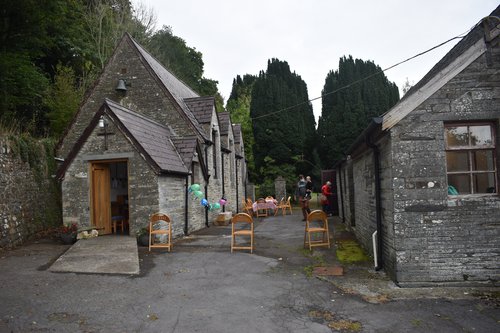 A couple of years ago, when a pot of money became available for improvements to St Tygwydd's Church, Llandygwydd, it was decided to use the funds to upgrade the existing toilet block. This had originally been built for the local primary school, whose headmaster had been Rhian's father. This school was eventually shut by the Education Board for safety reasons, but was deemed safe to be used as a village hall. In 1998, the village church also had to be closed because of subsidence in the foundations. At that time, it was decided to convert the building that used to house the infant class into a church, while the junior class building became the village hall.
The work on the new toilet block was completed in 2019, but the pandemic stopped the plans to have a 'grand opening ceremony'. However, in October 2021, the church arranged a fund-raising Bore Coffi in conjunction with the Village Hall, and the Local Ministry Area Dean, Canon John Bennett, came to officially open, and bless, our new toilets.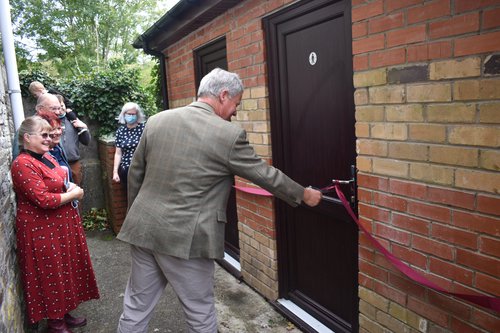 Rhian had been inspired to twin our new toilets through Tearfund's Toilet Twinning scheme. Colourful bunting and balloons were hung up, and the church seating was re-organised to allow for several Messy Church children's activities to take place.
Everyone was very generous and, as a consequence, we were able to fund two toilets. One will be in Uganda and the other in Afghanistan; the verification certificates will be displayed in the toilets.
The event was extremely successful from several standpoints.
First, from an overseas missional perspective, we have been able to provide funds for two much-needed toilets.
Secondly, from a social perspective, the event was greatly appreciated by the local community.
Thirdly, from a joint working perspective, it enabled the members of the Maenordeifi Group of Churches and the local community to work together, renewing and improving relationships that have been difficult to maintain over the previous 18 months.
We praise the Lord that he enables and encourages those of us who have to give to those who have not.