Keeping it local
Food resilience will soon become an imperative, and Pembrokeshire has made a good start, says Gareth Davies, Chair of The Pembrokeshire Community Food Network (PCFN)
With a worldwide recession predicted, will Pembrokeshire have enough locally produced food for its population? Regardless of Covid-19 or the economic climate, can we turn our food system from an import-based to a resilience model?
During the pandemic, many people have been asking these questions. After establishing the Pembrokeshire Community Food Network, which supports localised change in the food supply chain for the better, a number of new suppliers and local growing initiatives have emerged. Groups include: WeGrowPembs in Pembroke who supply vegetables; Peninsular Producers who grow and supply vegetables; Fishguard and Goodwick Growing Local and Brithdir Mawr in Newport are hoping to provide space for people to grow for themselves; and Fynnonne Community Resilience who are actively disseminating information on growing and are hoping to launch projects.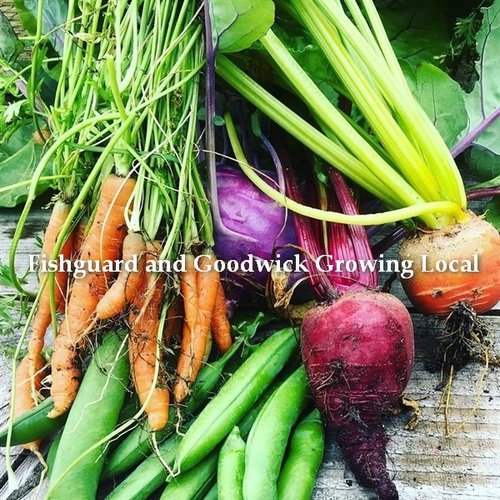 During lockdown Emily Hopfinger, the Secretary of PCFN, created the Facebook page called Fishguard and Goodwick Growing Local. A plant swap was initiated at St Peters Church in Goodwick and Plas y Gamel in Lowertown, enabling people to exchange vegetable seedlings they had grown.
Community leaders, including County Councillor Cris Tomos who sits on the board of the PCFN, became aware of the initiative and were very supportive of it. The Farmers Market on Saturday in the Town Hall offered us a space to share our emerging group, and the Fishguard and Goodwick Greening Group were interested in potentially working together on projects. The Chamber of Trade and Tourism offered to include a project matching our interest into a grant application.
Other ideas which might help make our communities more resilient include: taking an allotment - there are currently some available near Allt y Carne Woods in Goodwick, and ask in your community; if you cannot maintain your garden consider offering space to someone who would like to grow vegetables but who does not have anywhere to do so; sharing seeds and seedlings with friends, family and at swaps.
Use your farmers market or lose it. Ask questions of sellers, where are the ingredients from, what environmentally sensitive measures do they utilise? Many farmers markets have locally produced items. Having a space to sell produce, should our food system change for the better, will be a high priority.