If people need food, we will give it
Abby Reid, Administrator of Banc Bwyd, Llandysul, tells Jonathan Parker why she established Llandysul foodbank and its sister facility in Newcastle Emlyn"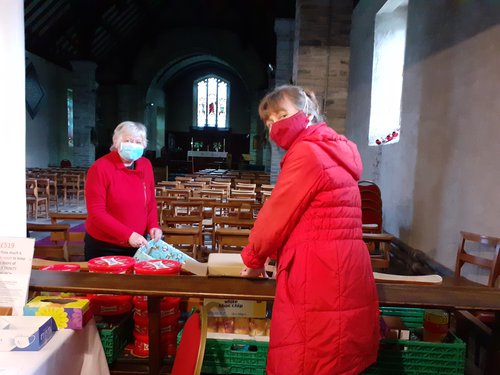 The basic commandment is to love the Lord your God with all your heart and all your soul and love your neighbour as yourself.
"Shortly after moving into Llandysul Vicarage we would get people knocking on the door, telling us they had no money for food. My husband, Gareth (the LMA Dean), and I would gather some food for them and soon parishioners heard and began to bring tins to help out."
Abby and Gareth had previously volunteered in a foodbank in Swansea where 'Aunty Pat' taught volunteers to be compassionate and fair. This experience has helped the Banc Bwyd grow and flower in Llandysul. Local people heard about the foodbank, got involved and, by working together, have developed firm friendships. Other Christians joined and Seion Chapel now houses the foodbank.
"It's part of our DNA," says Abby, "to be Jesus' hands and feet, and to help those in need." Local businesses including Penrhiwllan Stores, CK's and Spar give food and act as collection points for donations.
Local schools, the Citizens' Advice Bureau, GPs and homelessness charities refer people to the foodbank but Abby says there isn't a typical recipient. "Many people are just one or two pay cheques away from trouble. All that most have in common is that they have fallen on hard times and have no one else to support them.
'The generosity of the community means parcels can be tailored to suit the needs of single people, those with dietary requirements, multi-generational households, or those with pets." The foodbank provides fresh produce and sets their own limits on how many parcels people receive; responding to community need rather than a national guideline.
Abby noticed people from the Newcastle Emlyn area were accessing the Llandysul facility. With poor public transport links and many in need lacking access to a car she realised operating in Newcastle Emlyn was essential. Newcastle Emlyn foodbank runs as part of Llandysul's, but volunteers aim to be independent soon.
Recognising that political failure increased the need for foodbanks Abby is determined to help. 'There's no judgement, strings or hidden agendas. If people need food; we will give it.'
Banc Bwyd Llandysul and Seion Chapel recently featured on S4C's Prosiect Pum Mil
Useful things to donate
Tinned meat or curry
Fray Bentos pies (or similar)
Tinned potatoes