Honest Sadness: Lament in a pandemic age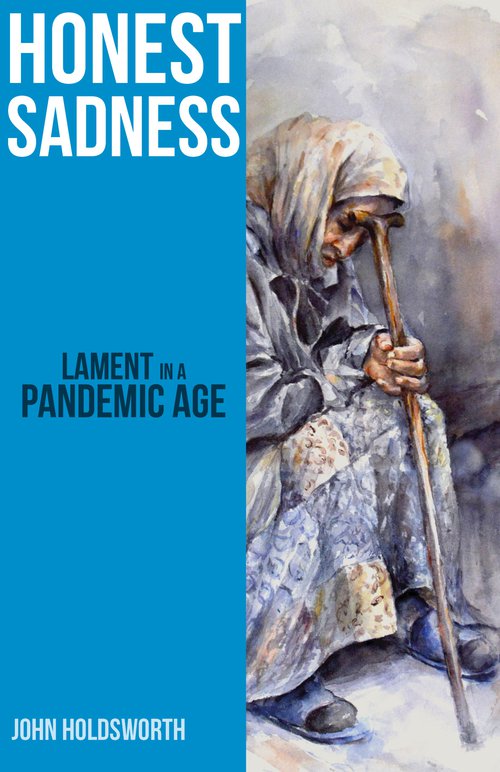 By John Holdsworth
Pub: Sacristy Press; 2021
ISBN: 978-1-78959-161-3
Price: £12.99
---
This is one of the most remarkable books I have ever read
"Honest sadness" and "Faithful incomprehension" are just two arresting terms summarising what is a no-holds-barred engagement with suffering, and its effect on how we make sense of ourselves and our faith in God.
John Holdsworth was Archdeacon of St Davids from 2003 until 2010, and is held in affection and respect in this diocese and across Wales. Here he combines a lifetime of bible study, pastoral ministry and personal experience to bring lament to the fore as the Bible's neglected medium in response to personal, communal and global suffering. It is deeply moving, theologically enlightening, pastorally sensitive and, yes, relentlessly honest. A heartfelt gift to journey with us through such vales of tears as may come our way and threaten to upend our faith.
Lament comes into focus as a biblical theme out of step with the sensibilities of contemporary society, but never more relevant than in the wake of a pandemic which has taken its toll on populations near and far. How to give lament renewed expression pastorally and liturgically is indeed a task for these times.
Personal reflections focussed on his care for his wife, diagnosed with one of the most distressing forms of dementia, punctuate powerful biblical and theological insights prompted by his encounters with trauma and tragedy from Baghdad to Bosnia, Lancashire to Newport Gwent.
Drawing on his many years as a theological educator, he traces the trajectory of lament and lamentation from Genesis to Revelation, focussing especially on why it is less pronounced in the New Testament than the Old. Chapters follow a set pattern: an example from lived experience; biblical commentary; autobiographical reflection from his own journeying with sadness. A final chapter explores what a church characterised by honest sadness might look and feel like. Good summaries of each chapter help the book to be negotiated with ease, notwithstanding the challenging content. Suggestions for reflection will assist group discussion. Not one chapter is without interpretative insights which are informed, original and profound.
There is no self-pity here, just raw honesty about Sue's condition, his feelings, the care shown by a compassionate Christian community - and wrestling with God's word in the midst of intense suffering, embattled faith and invincible hope.
Potential for redemption is a golden thread running through the book so that painful experiences can be formative of spiritual maturity. A truth John Holdsworth demonstrates with humility, grace and Godly wisdom.
Rt Revd John Saxbee