History shared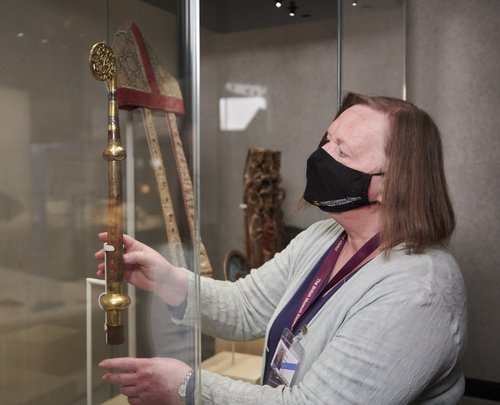 A rare 12th century crozier from St Davids Cathedral is one of the exhibits in the British Museum's first exhibition after lockdown, explains Mari James, Library Development Officer at the Cathedral
The exhibition is Thomas Becket: murder and the making of a saint and runs until 22 August 2021.
The crozier from St Davids Cathedral will represent one of the few remaining objects contemporary with Thomas Becket which represents the status of a Bishop in Becket's period. Lloyd de Beer, joint curator of the exhibition, has called it "an astonishing survival". The crozier was buried for many years in the mediaeval tombs beneath the carved stone screen at the top of the cathedral nave. It is one of a group of croziers, chalices, rings and coins uncovered in 1865 during restoration work by architect George Gilbert Scott to support the fragile cathedral tower.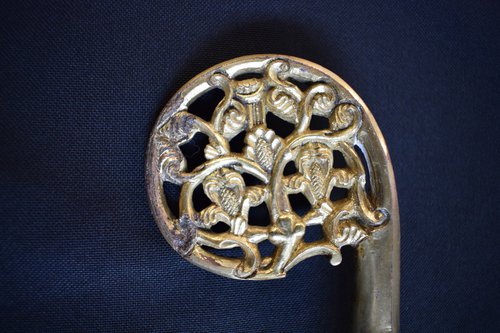 Thomas Becket: murder and the making of a saint is the first major exhibition focussing on the life, death and legacy of Thomas Becket, whose brutal and public murder during evening vespers service in Canterbury Cathedral in December 1170 shook the middle ages. Becket was killed by knights of King Henry II who was also in dispute with Lord Rhys of Deuheubarth (Dyfed) and who blocked the appointment of Gerald of Wales to the Bishopric of St Davids. The exhibition charts Becket's rise from birth in London's Cheapside to become one of the most powerful figures in Norman England, through to his often divisive legacy after his death.
Over 100 stunning objects are brought together for the first time, some of which were initially smuggled abroad during the Protestant Reformation when Henry VIII declared all saints' shrines and relics should be destroyed.
Our cathedral team have been working with international experts in the British Museum, and elsewhere, on the provenance, design, safe transportation and display of this unique work of art. The crozier is copper gilt and has silver banding with delicate patterned niello inlay; its head is a beautiful design of gilded foliage with leaves and berries.
The crozier will be safely transported back to St Davids in September, after the exhibition closes, and will again be on public display in the Cathedral Treasury. The crozier's journey can be followed on our website (www.stdavidscathedral.org.uk/discover/library), social media channels, including Twitter @StDavCathLib, or e-mail Library@StDavidsCathedral.org.uk.
Tickets for the exhibition are on sale at www.britishmuseum.org/becket