Green goings-on
Jim Flanagan describes how Bro Lliedi LMA is enjoying letting nature take its course, while things are buzzing in Llangorwen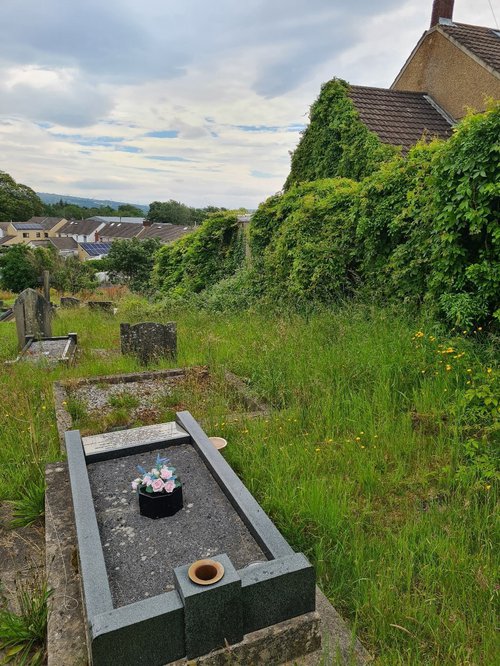 Many churches have, for years, had "that bit that we don't mow" perhaps for environmental reasons or perhaps due to the difficulty in cutting grass in that particular area. For a number of years, the organisation Plantlife has promoted No Mow May. This is a scheme that promotes doing nothing to lawns and other grassed areas for at least a month. It is designed to allow wildflowers (well, possibly flowering weeds) to flower and provide a source of nectar for pollinating insects at a time of year when such flowers can be in short supply.
In our little patches of green it was decided to give this a go. There are six churches in Bro Lliedi LMA and all were identified as being suitable. Various areas were selected in the church grounds and, where possible, two or more areas were marked out to be left alone. The areas were chosen to be as diverse as possible and over the various churches we were able to leave alone patches that were in full sun, partial shade, exposed, sheltered, already overgrown, boggy and one spectacularly large area that was adjacent to a large and slightly dilapidated wall.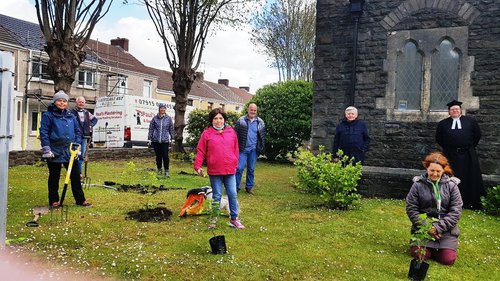 So far nothing has been cut, and, as well as No Mow May, we added Let it Bloom in June and Knee high in July. Some of the church congregations participated in the Caring for God's Acre survey and various species of plant and wildflower were identified as growing, including some rather rare specimens. Others have put various items in the wild areas to act as habitats and shelters for insects and other wildlife.
We have also started to do some work with Incredible Edible Carmarthenshire, which is a group that promotes the planting of edible plants and shrubs in public areas. With them we have already planted some currant bushes and are looking at other sites for soft fruit and possibly fruit trees. This has been a great start to a project that will, hopefully, see more collaboration between the churches and other community groups. Plus, hopefully, there will be an abundance of tasty treats in a few years.
None of the above was particularly arduous and in the case of No Mow May, doing nothing achieved great results. We will certainly be looking at more projects in the years to come.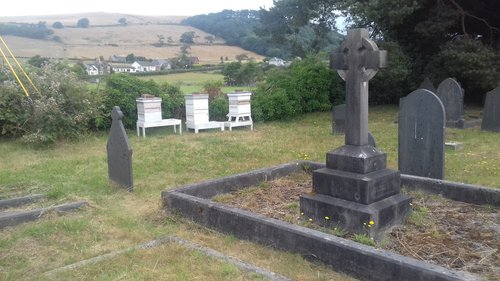 Meanwhile, in Llangorwen...
Three years ago it was decided, at All Saints' Church, Llangorwen, near Aberystwyth, not to cut the area around the historic graves, which are rarely, if ever, visited. This has resulted in an abundance of seasonal wild flowers, insects and wildlife. Some bee hives have now been placed against the north wall, away from the paths and more recent, visited graves. It is hoped that the bees will produce a good honey harvest while, at the same time, doing their bit for nature.