Governing Body report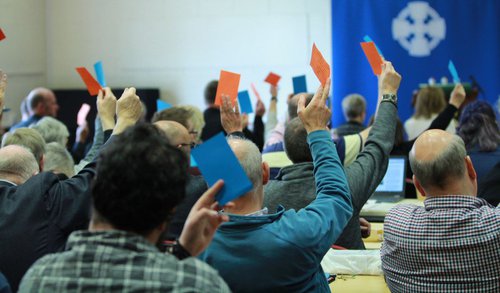 The Autumn Meeting of the Governing Body took place over two days, 6-8th September, the first session in person at the International Convention Centre and the second online. Paul Mackness reports
The Governing Body (GB) met physically for the first time in two years to debate the Bill brought by the Bench of Bishops to allow an Experimental Rite for the Blessing of Same-Sex Civil Partnerships and Civil Marriages for five years.
It had been decided by the Business Sub-Committee that this was a topic that would be better served by members being able to engage in a face to face debate. The Bishop of Bangor was in the chair for this session.
An amendment was brought by the Revd Dr Jonathan Wright to delay implementation of any Experimental Rite. Depending upon what side of the debate you sat, it was either helpful or a wrecking motion for the proposed bill. The amendment was defeated 77 votes to 27 with no abstentions.
The Bill was then debated by the whole of the GB. I have to be honest, whilst the debate was respectful to those with opposing views, I don't really think that the quality of debate was high on either side and this was one of those issues where members had already decided which way they were going to vote.
The Bill was passed in all three orders.
Laity: 49 for, 10 against, one abstention
Clergy: 28 for 12 against, two abstentions
Bishops: four for, none against, no abstentions
The result was heard in a respectful silence, and the Bill immediately promulgated by the Senior Bishop.
The second day, conducted online, was turned over to more regular business and chaired during its first session by yours truly in my debut as Chair. I had been given items relating to constitutional and legal matters and the Standing Committee. (What a surprise!). The main item of business dominating the rest of the day was the Climate Emergency Motion when the Church in Wales declared a Climate Emergency and committed itself to becoming carbon neutral by 2030. This was passed overwhelmingly (as readers may be aware this was also debated at our own Diocesan Conference).
There was also an update on plans for the Year of Biblical Literacy, following on from a Private Members' Bill. Watch this space because many of them will be included in our own Year of Discipleship coordinated by Archdeacon Mones Farah,
Full details can be found in Highlights, available in parishes and on-line.