God on mute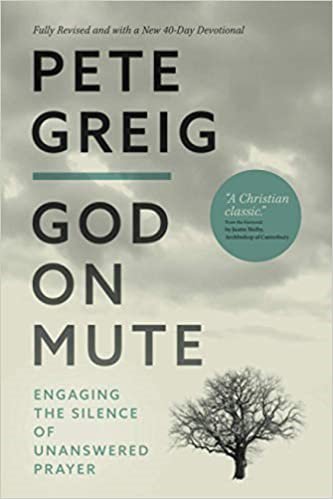 The silence of unanswered prayer
By Pete Greig
Pub: David C Cook; Revised edition, with 40-day devotional, 2020
ISBN: 978-0830780716
Price: £11.95
My friend recommended this book to me and I am so glad she did. This is the best book I have read on prayer. Pete Greig's experience with suffering and his sound theology opened my mind and heart to new ways of handling trials and hardships, and, especially, unanswered prayers in the midst of difficult situations.
God on mute is a book about how to cope when your prayers do not seem to get answered.
Some may ask, "Why do you even want to read such a book? Should we not focus on encouraging believers that God does indeed answer prayer? What we need are testimonies of wonderful interventions by God in response to simple prayers of faith?" Of course, Pete Greig can, and does, answer that he has already written such books. If you have not already read Red moon rising or Dirty glory, then I recommend that you stop reading this review, get hold of those books and read them now.
However, God on mute is a different kind of book, which interweaves Greig's personal experience of wrestling with unanswered prayer regarding his wife's epilepsy and is a journey through the few days from Maundy Thursday to Resurrection Sunday. I have found it such a helpful reflection in the dark times in life.
I particularly appreciated the author's honesty and humanity in sharing his thoughts and feelings when facing his wife's illness. This is one of those books with so many gems that it demands revisiting.
If we are honest, we all struggle with prayers that do not seem to get answered. In this remarkable book, Greig sets out to provide answers that are anchored both in scripture and in real life experience. He avoids clichés and easy answers.
Overall, God on mute gave me plenty to think about and reflect on. Add it to your list and make it one of your must-reads during our diocesan Year of Prayer.
Revd Shirley Murphy