The go-to Plaice: Seafood from Ceredigion
Lyn Dafis talks to Craig and Rhiannon Edwards who run Jonah's Fish Market in Aberystwyth.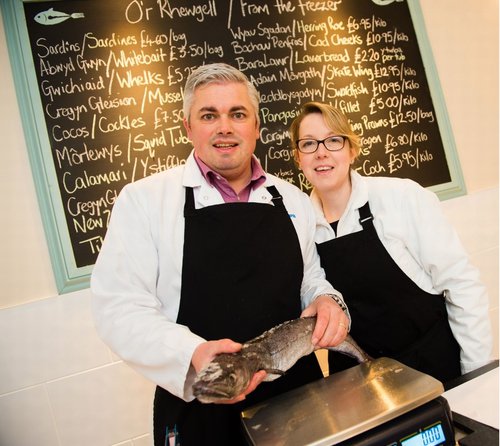 Craig and Rhiannon Edwards have been running Jonah's Fish Market in Aberystwyth for six years. The shop specialises in seafood of all types and has established itself as the go-to place for those who can't get enough of food of this type. On the way they have won a number of awards.
Craig used to work in IT until he was made redundant and took advantage of a re-training scheme to follow a new career as a fishmonger. As part of his training he spent a period of time in the famous Billingsgate fish market in London. Rhiannon is a chef and together they make the perfect team to run the shop.
"There are two things that are very important to us," according to Craig. "First of all we must have a product of the highest quality. By buying fresh from local fishermen we are confident that we do so regularly. Secondly, you must be able to offer help and advice to your customers. A number are not sure what sort of fish to buy or how to cook it. That is when knowing people is important in order to give them the advice that they need. Then, as they grow in confidence, we can encourage them to experiment with new things. Nothing gives Rhiannon and me more pleasure than seeing a customer return to thank us for our advice, and of course to buy some more fish!
Like all small businesses, the recent period has been challenging as a result of the Covid-19 pandemic but Jonah's Fish Market has changed and adapted to new ways of working in order to be able to cope more effectively with changed circumstances. According to Craig, "One of the first things we did was to establish an on-line shop and a delivery service for our customers. That has gone down well and we are grateful for the support we have had from the community in this venture."
"We have also expanded our Jonah's Kitchen range," adds Rhiannon. 'We had started to prepare ready meals before but with an online ordering and delivery service, as well as those who call in the shop, demand has really grown. People appreciate the convenience of a ready-prepared meal which only needs to be heated and I believe that this aspect of the business will develop further."
You can visit Jonah's Fish Market on-line at https://jonahsfish.co.uk/en/home/ or call in the shop itself at 10a Cambrian Place, Aberystwyth, SY23 1NT. For more information and opening hours call 07772 451732.