Getting together in a time of pandemic
Becky Evans and a group of students enjoy a weekend away
A virtual student weekend away I thought... That's a good idea... And then the reality hit, is it really?! A few weeks on, the answer is a resounding Yes! I've seen so many answers to prayer along the way and God worked powerfully over the course of the weekend. I'm so thankful for the amazing speakers and those who were part of the weekend and the wonderful bunch of students who embraced my potentially slightly out of the box idea in the first place.
In September 2020, as part of my role I took over the student work in Aberystwyth LMA. I presumed we'd be having a student weekend away as usual. Things have been anything but usual – but the idea of a student weekend didn't go away.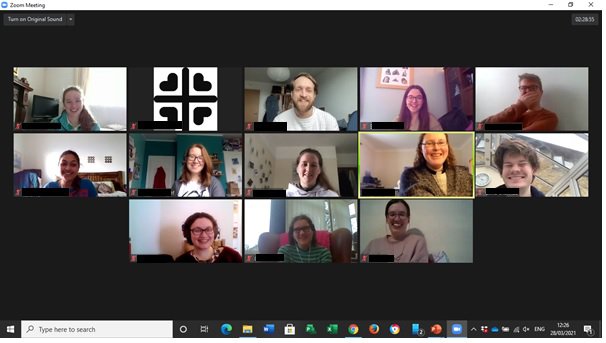 So come Friday 26th March we gathered from our various locations, spread across four countries (another benefit of going virtual!), for our virutal student weekend away looking at The Holy Spirit. Me, a little bit nervous and hoping the event wouldn't be remembered for all the wrong reasons - as the weekend of major Zoom fatigue! Thankfully, in hindsight I don't think it was my idea at all, rather something that God had put on my heart for a purpose. Within reason, it functioned similarly to an in-person student weekend away but with less mass washing-up and late nights. I learnt a key lesson - that the reason everyone is shattered after weekends away isn't about late nights and lumpy mattresses, it's the concentrated time hearing God's word and learning together.
Yes, we're in a pandemic and things are different, but this was still very much a student weekend 'away'. We worshipped together, had talks and sessions learning more about the Holy Spirit, fellowship, prayer and fun. We ate together and finished with a service of Holy Communion.
With the same answered prayers (if not more) as if we'd been physically together. I am so thankful that it wasn't something that just seemed like a good idea but had its roots in human ideas and fell flat. Rather, very importantly, God was at work – virtual is no barrier to Him.
"But you will receive power when the Holy Spirit comes on you; and you will be my witnesses in Jerusalem, and in all Judea and Samaria, and to the ends of the earth." (Acts 1:8)