A garden for all
Sophie Whitmarsh outlines plans to reinstate a place of rest and reflection in the grounds of St Davids Cathedral
For hundreds of years people have journeyed to St Davids Cathedral as pilgrims. In the past, they would pause before entering the Cathedral Close and take time to rest and reflect on their pilgrimage, surrounded by the beauty of nature, as they prepared to enter the sacred space of the cathedral.
Today, St Davids Cathedral continues to welcome visitors and pilgrims, both local and from further afield. With the support of Eco Dewi we are establishing a Community Garden as a place of rest and reflection – and more besides – on one historic pilgrim route. Our vision is to create a space that can be used by community groups, as well as regulars to the cathedral and its visitors: a place for all to experience and enjoy God's creation, and to encouraging wellbeing and creativity. We're planning on growing vegetables, storytelling, pilgrimage, art & crafts, biodiversity, appreciation of and encouraging, nature, and to build and sustain habitats for local wildlife.
The garden, beside the Canonry, has had a variety of past uses, but had become overgrown with brambles. Little could grow or flourish. Just before Christmas a small, socially distanced group of volunteers, from cathedral and community, began to spend time there, carefully clearing some of the plot and beginning to imagine what might be. Whilst the latest lockdown has put shared physical work on hold, the excitement and enthusiasm for creating a community space in the Cathedral Close has not diminished.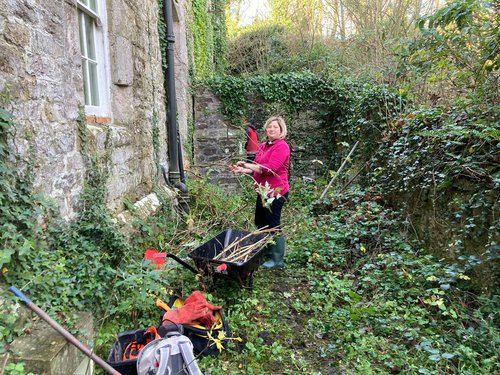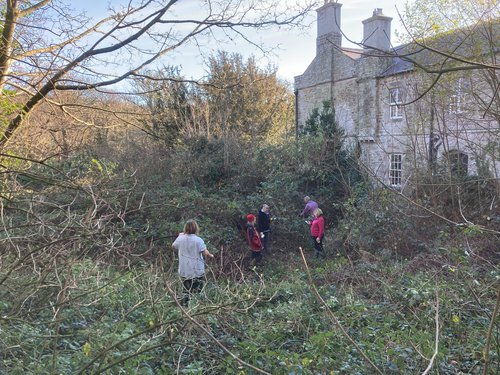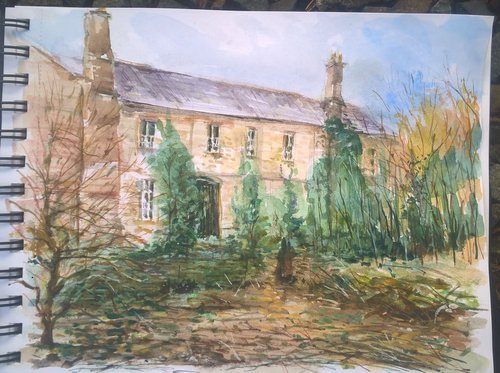 During lockdown, the group have kept in touch online, and have been talking about what this garden project might be called. Canon Fodder, The Secret Garden and Dewi's Acre are among the names being mooted. We're lucky to have talented artists in the group, who have been keeping a visual diary. It is hoped eventually that these beautiful watercolours will form part of an exhibition, tracking the garden's progress.
The excitement was further intensified when the group was recently awarded two grants. The one from Keep Wales Tidy has come in the form of raised beds, fruit trees, seeds, bulbs, a greenhouse, wildflower turf, compost … the list is endless! We've also received a grant of £500 from Pembrokeshire Association Voluntary Services. The race is now on to prepare the ground so that the garden can begin to take shape this coming spring, and soon become a place to welcome pilgrims and visitors once again.