"Flexible and convenient"
An exciting new MA in Theology at St Padarn's
Revd Canon Dr Trystan Owain Hughes invites anyone, lay or ordained, to get in touch if they are interested in developing their understanding of theology and ministry
It is now almost 20 years since I left St Davids Diocese. I loved my time working as Head of Theology at Trinity College, Carmarthen. One of the real highlights was working alongside a diocesan team, which included Bishop Joanna, to support discipleship and academic learning amongst those involved in lay and ordained ministry. I, therefore, feel I have come full circle in writing this article for Pobl Dewi.
I now minister in Cardiff, in a dual role as Vicar of Christ Church, Roath Park, and Tutor in Applied Theology at St Padarn's Institute. My principal work here is to lead the exciting Masters course that we have recently redesigned – the MA in Theology, Ministry, and Mission. It is now validated by Durham University, presently in the top five theological education institutions in the world, and this move has given us the freedom to tailor the course to specific needs and ministerial situations, whatever kind of ministry individuals are involved in, lay or ordained.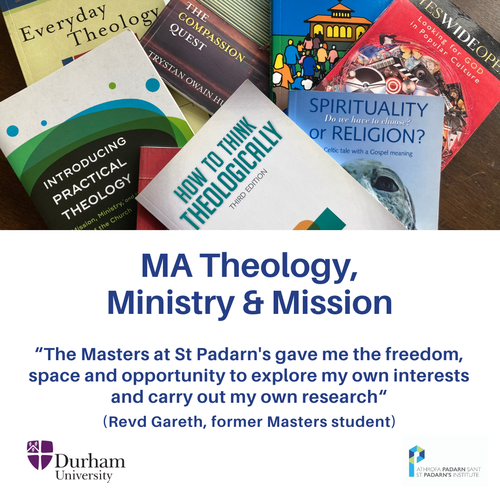 The course gives a grounding in practical theology and biblical studies, and then allows students to find their own niche and to explore particular interests – whether that is within practical theology, doctrine, Old Testament, New Testament, spirituality, mission, or church history. Our aim is for daily discipleship and ministerial practice to develop and thrive through study and reflection.
The programme tutors are internationally respected in their fields and bring a contemporary and engaging feel to the course. After all, we recognise that our faith comes alive when it is applied to our everyday lives, not least when we engage with contemporary thinking, culture and scholarship.
This new course has been designed to be flexible and convenient, with the delivery split between three-day residentials, online provision, and day courses – perfect for students across Wales.
Whether you have always wanted to undertake the challenge of a Masters or simply have an area of theological or ministerial interest that you want to explore further, it's certainly worth contacting us to chat through possibilities. To learn more about the course please visit: www.stpadarns.ac.uk/MATheology or contact Trystan.hughes@stpadarns.ac.uk