Finding Jesus in a junk shop
Caroline Jones is delighted with a recent acquisition
Some who take The Church Times regularly may remember this image as its story was published on the Faith page on 13th August. The tale revolves around this charcoal drawing which I discovered recently in an antiques/junk shop in Carmarthen. It was in a broken frame with cracked glass and had a swathe of grey cobwebs attaching it to the ceiling.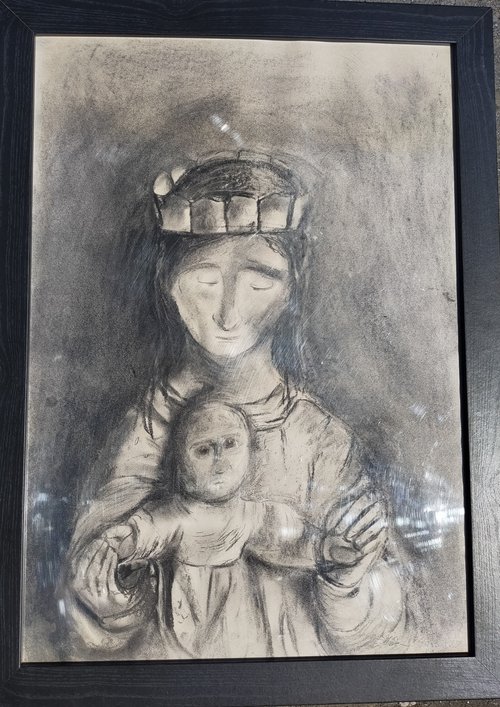 I paint and collect art, especially of the religious kind, but, on this particular day, I was on the hunt for a religious statue for a stone niche we have at home. However, this initially unprepossessing piece took my eye. It was marked up at £68 so not a fortune. I peered up at the title. It was called Spooky Woman with Kid. Hmmm, I thought, definitely not! The humility of the mother and the uprightness and gravitas of her Little Man of Sorrows was telling me something quite different as He looked out at us, His flock, with such wisdom and poignancy.
I didn't buy it though and left the shop. But the image kept haunting me. Many years before I'd founded and run The Loft Gallery in Nott Square in Carmarthen,. I remembered telling customers like me, who'd fallen for a piece, that if they loved something they should buy it as, if they didn't, they'd probably regret it for years to come. Something I knew from experience. So, after another week I decided to take my own advice and returned to the shop. Mask on, hands sanitized I made for the spot. It was gone. I asked the manageress where it was, and she told me the stallholder had taken it as it was falling apart. I said I was interested and left my name (without titles) and phone number. Two weeks passed. I heard nothing. Then, I received a call to my mobile asking if I was the Reverend Doctor Caroline Jones. The lady apologised for not ringing before, but explained she'd taken my number down incorrectly and had had to look me up online. The sketch was back. I went in immediately. It was now re-framed and boasting the revised title Madonna with Christ-child! It was also repriced at £25. Oh Happy days! I didn't haggle and paid cash.
Clearly, my interest had caused the stallholder to see the sketch differently. And, as He is everywhere isn't it our duty as believers to demonstrate this? Halleluiah!