A final resting place for mediaeval pilgrims?
Mick Dean, Diocesan Property Officer, finds fascinating gravestones in a secluded Carmarthenshire hamlet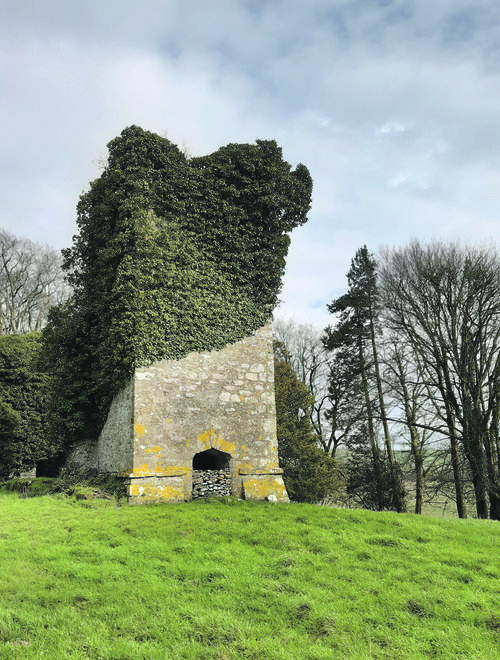 Having had my interest sparked in medieval pilgrimage to St Davids Cathedral (see my article in Pobl Dewi, September 2020), a cold day in spring found me warily walking across a muddy field, under the baleful eyes of two collies.
I had come to the secluded hamlet of Llanfihangel Abercowyn (six miles south of St Clears), to visit St Michael's Church, now located on private farmland, which had closed in 1848.
As we know, medieval pilgrimage was a hazardous undertaking, so travel by boat was the obvious choice for (wealthy) pilgrims. The solemn ruins of the church, and silent surrounding areas that we see today, would have been the opposite 800 years ago.
Due to St Michael's close proximity to the River Taf and Carmarthen Bay, this immediate area would have been a hive of activity, with river ferry boats working alongside larger sea-going vessels, carrying significant numbers of pilgrims on their journey to St Davids.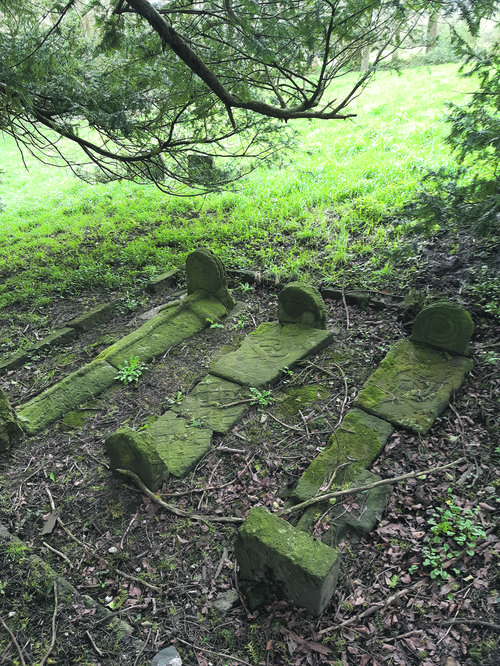 Among the neglected gravestones from the 1700s, I found a group of three gravestones which appear to date circa 1300s. The stones themselves are decorated with all manner of symbolism (which warrants a detailed separate article in itself), but note the middle 'female' stone incorporating animal protectors behind her shoulders (possibly hounds), a distaff held in her right hand (a powerful symbol of medieval matriarchy), and the Templar cross on her chest.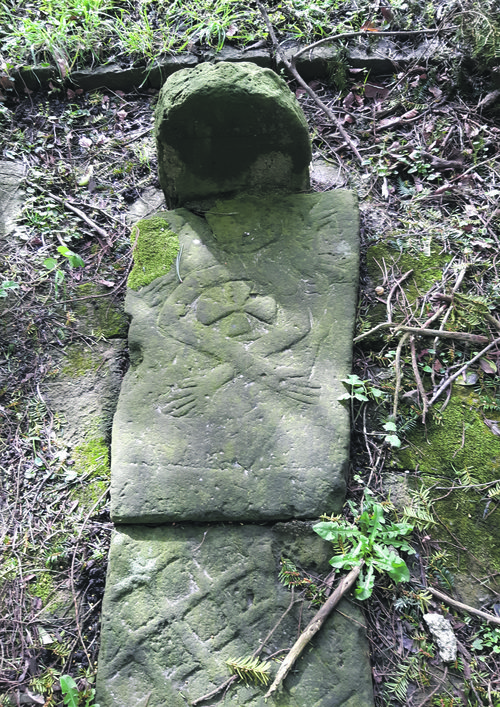 Illness and death were literally a breath away in the medieval period (comparisons to our contemporary Covid epidemic?), so the belief of gaining saintly help and protection through pilgrimage was big business.
Could it have been the case that these three wealthy pilgrims died en route to St Davids, and were buried in relative grandeur? Or were they part of a forgotten gentry that lived in the area?
Much less romantic, would be the unlikely idea that these three graves were modified out of separate medieval gravestones, in the Antiquarian style which was fashionable with Victorians.
Whatever the explanation, Llanfihangel Abercowyn remains a fascinating mystery, and perhaps the two staring collies, who watched my tentative retreat through the fields, knew something which I did not.