Faith and the Senedd
During the Covid-19 pandemic, politicians have been constantly under the spotlight and have received their share of criticism. Yet without politicians our democratic system could not function. In a wide-ranging interview, Elin Jones, MS, Presiding Officer of the Senedd, tells Lyn Dafis about the privileges and responsibilities of her office and the importance of Senedd links with faith communities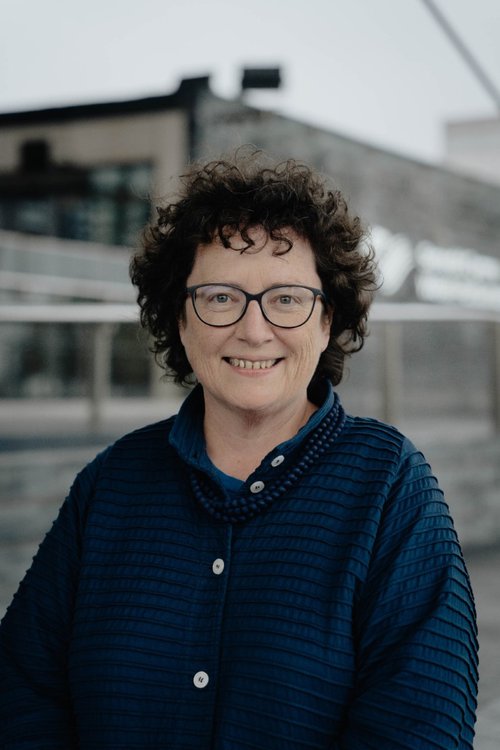 Elin Jones has been a member of the body we know as the Welsh Parliament as a member for Ceredigion since its establishment in 1999. She is now Presiding Officer, or Llywydd, of the Senedd and has held that position since 2016. So my first question was what made her want to continue doing the job, given that only four members elected to the first Assembly were still left there.
"Well", said Elin, "in the first place, my age is in my favour. I was relatively young when I was first elected to the Assembly and that meant that I was able to stand for the sixth time as I did last May. I enjoy representing the people Ceredigion in the Senedd and feel honoured to be able to work from day to day for the people of the county. I also felt that I wanted to be there for a further period to secure the sound foundations of the Senedd after the uncertainty of the constitutional changes in the wake of Brexit. At that time, some were talking about its abolition. I am pleased that that threat has been greatly reduced since the May elections when only representatives of parties supporting a future for the Senedd were elected."
According to Elin Jones, the Covid-19 period confirmed for her the importance of her role as her constituents' representative. "As elected members, we were all reminded that representing and serving people is our job." She explained how many individuals and businesses had been looking for some kind of guidance and understanding of what was going on in that situation. She felt that it was entirely proper for them to expect support from their representatives in that regard. "People were coming up to you and asking all sorts of questions about what was going to happen. My place was to seek to give them guidance and comfort, to reassure people that there was a path leading through the uncertainty. I was definitely there to serve at that time."
Of course, the way people ask her for help has changed enormously. She remembered what it was like when she was first elected in 1999. "At that time, people would contact me by letter and expect a reply in a couple of weeks. I now receive electronic messages at 11.30pm, and people are disappointed if I haven't answered by the following morning at the latest! But at this time, people were worried about their lives and livelihoods and it was my duty to explain to people how help was going to be available for them to run their business in the future. Being directly accountable for that in such a way has changed things completely from my point of view, and that of other members of the Senedd as well. I appreciate the close relationship that has developed between me and the people I represent as a result of it, and the opportunities that come for me to try and help people overcome problems and challenges that they face them."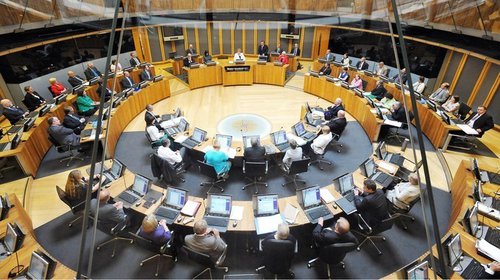 I noted that what she described as her work as a Member of the Senedd was similar to what would be called pastoral care in some circumstances. She said that she felt that as a representative, she could act as a sort of bridge between the authorities - the Welsh Government and its ministers, the Health Board and the County Council - and people on the ground. "I commend all those organisations for being so open with us as local politicians and for using us, in turn, to make sure the right information reached people. Because at that time, I learned that inaccurate information is the most dangerous. And inaccurate information often is a result of a lack of any information, so being able to share reliable information with people through social media was an important part I could play at that time."
Ministerial matters
Elin Jones served in Government from 2007 to 2011 as Minister for Rural Affairs. And she feels that some of the experience she gained then helps her now. One of the things she faced was managing an outbreak of foot and mouth disease and the distress and losses that farmers, in particular, experienced at that time. "As a result," she says, "I had some idea of what it was like to deal with a crisis and make decisions that directly affected people's lives." She felt that she understood the pressures on individuals and those trying to run their businesses through the pandemic, and that was a reason for her to offer the support she was able to offer. But she was also grateful that because of her experience she was able to understand the pressure on the ministers who had to deal with Covid-19. "Because I had the experience myself, I found that as one who was not part of the Government I had a responsibility to critically support them in their work. I think the ministers and the First Minister, in particular, have shown courage in taking decisions that no one has had to take before. Even when I didn't agree with what the First Minister was doing, I understood that he was acting with the best motive of protecting the public."
The First Minister and his ministerial colleagues were not without their critics at this time, especially on social media. I reminded Elin Jones that social media was not around when she was the Minister and took difficult decisions regarding Shambo the bullock, TB policy and badger culling. I wonder if she had any idea how difficult it would be to do so today. Elin Jones's answer was revealing "When I was Minister I took difficult decisions and got threatening letters, phone calls, and emails as a result. That was difficult enough, but to make such a decision now would lead to some shameless criticism by some now. I don't think the ministers could have done their job without ignoring all the personal attacks coming on social media at this time."
Social media
I also asked her about the totally unjustified attacks women constantly face just because they are women on social media. She said she knew that from her own personal experience. "Women face much more personal criticism of their bodies, their appearance and how they look, and about anything really to try to undermine them. And what worries me most about this is that it will lead to fewer women in particular taking part in public life. And they need their voices to be there talking clearly about what matters to them."
As Elin Jones took office as Presiding Offier, or Llywydd, of the Senedd in 2016, she was glad of the opportunity it presented to her. She explained that everyone had expected the former Conservative member David Melding to put his name forward as Presiding Officer at that time, but he did not. And so Elin Jones saw an opportunity for change for herself: "I'm sure there should be a better reason than that, but I was looking for a new experience and opportunity to serve. The post of Llywydd would mean that there would be an opportunity to do something very important to me, to ensure the growth, development and continuation of our national democratic institution, and I wanted to see someone in the post who would be committed to doing that.
Changing times
"I've seen the institution evolve over the years. As Llywydd I worked to change its name to the Welsh Parliament, or Senedd Cymru, to reflect the legislative powers given to it after the 2011 referendum. I would like to see it have even increased powers in fields such as justice and broadcasting. But there is a practical problem in this happening at the moment; the Westminster Government does not currently support this. So we have to look at how Parliament can act within its powers. I see a lack of capacity as a significant weakness. In other words, there are not enough members to do the necessary work of Government and scrutiny. We need more members to do that job better.
"So I see trying to build a consensus across the parties on this will be part of what I will be doing in this coming period. I know that talking about 'more politicians' is never popular. Still, after the experience of the Covid-19 period, I think more and more people have come to see how important it is that the Government is held to account and of having politicians who are able to scrutinise ministers' decisions that affect the daily lives of the people of Wales. And I think the people of Wales see the importance of this as they firmly rejected those voices calling for the abolition of the Senedd in the May 2021 elections; and by doing so show that they are comfortable with the fact that decisions at a time such as the pandemic took place in Wales."
I reminded Elin that she is a Cardi and that thinking of spending more money on politicians could be difficult for her. But she had an answer. "I've been doing my sums," she said, "and it's clear that paying for four representatives in the European Parliament costs as much as 20 members in the Senedd and so there's money saved to pay for such a development. They are needed to do the job. Most members of the Senedd serve on two or three committees or in Government. At Westminster there are 100 members who are not on a committee of any kind or in Government either. I would like to know what they are doing with their time and for their money!"
The place of the Church
Before the interview drew to a close, I had the opportunity to question Elin about how as President of the Senedd she saw the place of the Church and other faith communities in Welsh public life. She answered quite clearly that there is a place for everyone in our country's democracy and that it includes those voices that represent faith communities. She expressed her hope that they would be able to recover from the pandemic: "I am very aware of how these communities have faced all sorts of challenges over the past eighteen months. They have not been able to meet together, have not been able to worship together but they have also been giving their members guidance on how to cope during this time. That leadership has been very essential indeed."
She noted that those partnerships that exist between the Welsh Government and faith communities are important and are needed in practice when it comes to legislating in certain subjects and areas. "When discussing the new curriculum measure recently, there was a lively discussion with all faith communities", she says, "and of course on moral issues it is important to hear such voices. I found that particularly useful during the debate on changing the rules on organ transplantation.
"Such a relationship between politicians and faith communities gives society the strength it needs. That connection is important in our society. I hope that our churches, chapels and other places of worship will be able to resume their worship in positive ways as the Covid-19 regulations are relaxed. And hopefully, those changes will also give me a new opportunity to welcome members of faith communities to the Senedd again, as I do for the annual Prayer Breakfast and other events that members organise."
There is no prayer or reflection at the start of meetings of the Welsh Parliament, unlike the House of Commons and the Scottish Parliament. Elin Jones did not recall what the arguments were when the decision was originally made on the question. But she was aware at the time that many members of the newly-established body wanted to start from scratch in Cardiff in a way that was completely different to what existed at Westminster. In order to ensure that the Assembly, as it was then, was open and inclusive of all people of faith and those of no faith, it was decided not to have that element in the life of the body. The pattern has now been set, and she sees no reason to change it.
In closing the interview, there was an opportunity to talk a bit about Elin Jones' background and her connection with Llanwnnen Church. "I was brought up in the Church in Wales at Llanwnnen Church. I regularly worshipped there throughout my childhood and youth. My father's family had been worshipping there for generations. My mother, on the other hand, came from the Independent tradition but became a Churchperson when she married my father. Much of what I received at Llanwnnen Church is still very important to me. I am grateful to have learned about the Christian faith, about the Bible, and about our hymns in particular. The sense of belonging and of looking after one's neighbour was very significant, and that was a strong feeling in the church. Even though I no longer attend, I still feel like I belong to that community, and my roots are still in that tradition."