Empowering our treasurers
Jeff Thomas, Diocesan Stewardship and Support Officer, is delighted that our unsung heroes will shortly be able to produce accounts at the press of a button
When Jesus began to send his disciples out two by two in ministry, he ordered them to take nothing for their journey except "a staff; no bread, no bag, no money in their belts." (Mark 6:7-8 NRSV). Just as you do today, the people provided all that was necessary for ministry, and just as God is generous in His abundance, so are the people of this diocese.
In order to use your giving to best effect, the diocese has relied on the hard work and dedication of a band of unsung heroes, our LMA and church treasurers. Some have toiled over your accounts for decades, others for less time, but all have given generously of their precious spare time to ensure that God's work goes on in this, our corner of His vineyard.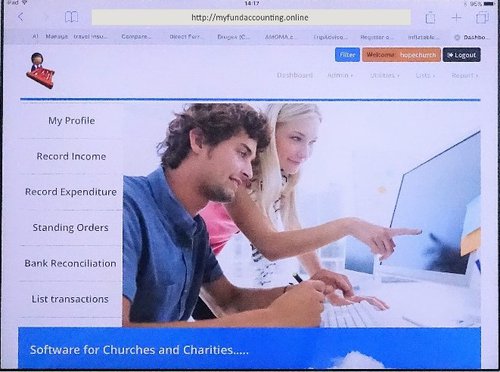 Recognising the increasing challenges faced by this gallant crew, the diocese has procured from a firm called Data Developments an online accounts system which will enable them to record transactions, be they receipts or payments online. Treasurers will be delighted to hear that shortly, and for the first time ever, their accounts can be produced for the Easter Vestry just by pressing a button. The system keeps a tally of the church's financial position with every transaction entered and updates the accounts accordingly.
Very shortly, gone will be the long evenings pouring over receipts and invoices, the click of calculators and the struggle to format the figures into presentations which fellow worshippers can use.
During this year, one LMA in each Archdeaconry will be offered the facility on the first Monday of every month. By November all our churches should have been offered it. The application, called My Fund Accounting, will free up a lot of time and energy which can be spent on what Jesus would want us to spend it on, growth and mission.
The first three LMAs go live on 01 March; they are Narberth & Tenby LMA, Aberystwyth LMA and Bro Lliedi LMA. Already LMA Deans are competing for slots to emulate them in the following months. Just as we equip each other for ministry in so many other fields of endeavour, so we must equip our Treasurers. Matthew the Evangelist, Apostle and tax collector is today the patron saint of bankers, accountants and by extension treasurers, for what is a treasurer if not an accountant? Let's pray for our treasurers.