Edi or Edith?
The approach to the Grade II listed St Edith's Church at Llanedi is breathtaking, says Caroline Evans, in the latest of her series on little gems around the diocese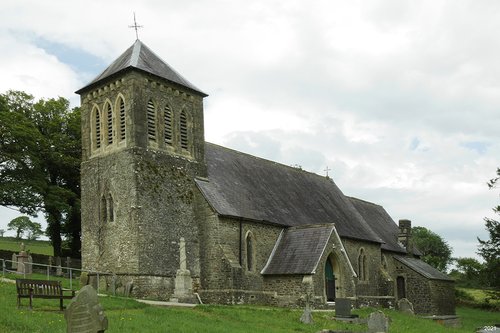 There are few churches situated in more idyllic surroundings. Isolated on a west-facing slope overlooking the River Loughor, it retains a pristine tranquillity. With its tree–sheltered gate and charming little hall behind, the straight path down to the church is a tantalising invitation to the visitor.
Built early in the thirteenth century, the church was partially rebuilt in 1860 and then underwent a major rebuild after a lightning strike in 1885. The original structure is retained in the lower half of the tower and north chapel. At the base of the tower is the blocked-up original door with a "new" porch around the corner. Among the church artefacts are a chalice, two plates dated 1729, a timber-lined iron chest dated 1790 (believed to be an alms box) and two replica Glastonbury Chairs.
The nave roof is of 5-bays with deep arched collar trusses and a big Gothic pointed chancel arch with foliate ornaments at the base. The 18thC mortuary chapel has three mid-19thC tomb-chests and red and black chequer quarry tiles on the floor. The main body of the church has simple close-backed pews with panelled square ends. A circular 19th century font bowl is supported on four squat shafts with moulded bases and the panels between the shafts are embellished with flowers all on a square plinth. The stained glass in the east and north windows of the nave are by Waine Bourne & Son, Birmingham, 1904.
The name itself has given rise to speculation. St Edith herself, daughter of the 10th century English King Edgar of Northumberland, chose the cloister and served her community, dying at the age of 23. There is, however, a cave near the church known as Ogof Gwyl Edi [the Cave of the Feast of Edi], and local folklore describes Edi as either a religious recluse or that Edi used the cave as a place for periodic meditation. Academia favours Edi as the original dedication, later assumed to be Edith!
The community thrived in the second half of the 19th century with the growth of tinplate manufacture and anthracite mining leading to the development of the communities who supported the church and do so to this day.
For information and access contact Church Warden Raymund Thomas on 01792 882405.
St Edith's, Llanedi, Ammanford, SA4 0YS