Drive-in Harvest
A united, drive-in harvest festival took place in Molleston Chapel, Molleston, near Narberth, on Sunday, 4th October. Shirley Murphy, Assistant Curate of St John's Church, Templeton, enjoyed leading the service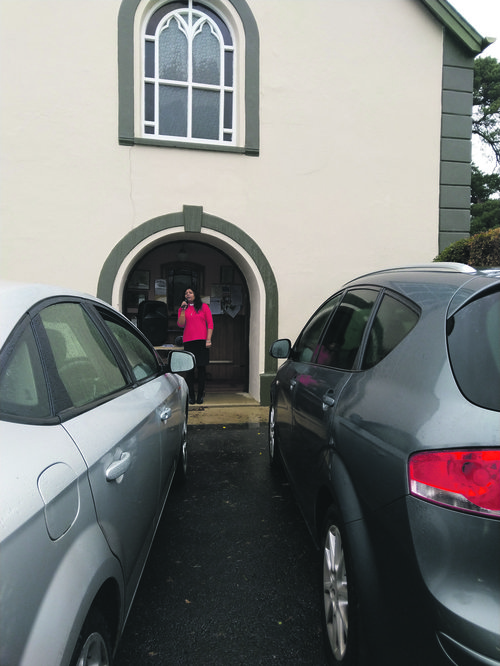 A great crowd turned up for the event, which strictly adhered to the Covid-19 rules and regulations. I led the service standing at the entrance of Molleston Chapel, while everyone else stayed in their cars to ensure we adhered to social distancing guidelines.
We had the idea for the service when we started thinking outside the box during these unprecedented times. I wanted to do a harvest service with a difference, as I know how important harvest is for people in our community because most of them are farmers and come from farming families. So, when I told them my idea for a drive-in service, the congregation members from Molleston Baptist Church, United Reformed Church, and St John's Church, Templeton, welcomed the idea and were supportive and very enthusiastic. We knew we had to stick to Covid-19 regulations, so we had to decide how many we could have from each congregation. We then invited people who would be interested and explained that it was arranged on a first come, first served basis. Everyone absolutely loved the service, thanked me and asked whether I would think about doing something similar for Christmas.
Because we cannot sing in churches, it takes a lot of joy out of our worship but we relayed recorded hymns on a CD player. Above all, however, being together and giving thanks for God's blessings gives us a message of hope that, despite the pandemic, the seasons continue to turn.
The harvest drive-in service was a huge success and we are grateful to Molleston Chapel for opening up their car park for the event. We were pleased that we were able to give thanks for the harvest, to share our blessings with others by donating to the Narberth food banks and to express our gratitude to all the farmers who have continued working during the pandemic.