Dads digging
The Plant Dewi Men's Project, based in the Plant Dewi Hub in Pembroke Dock, will be further developing its activities to support fathers in 2021, as Peter Arnold, Dads Work Project Worker, reports
The project will be developing gardening activities on a plot at the Greenlinks Community Interest Company, which borders Pembroke and Pembroke Dock. Activities will focus on growing vegetables, fruit and herbs which will be available to participants in the project and also used to supply local food banks with fresh produce.
The work is currently supported by the West Wales Care Partnership, West Wales is Kind Fund, The Police and Crime Commissioners, Cleddau Community Collaboration Fund, Williams Brown Hill and Pembroke Dock Town Council.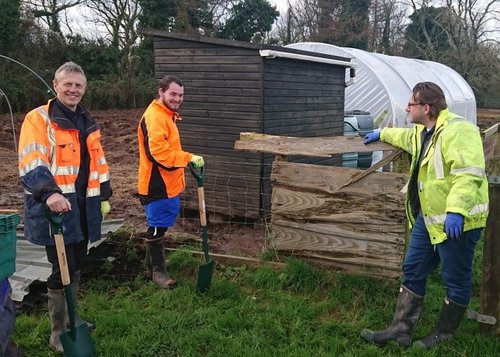 Fathers have already been involved in improving neglected community areas and supporting environmental objectives in the local area. They enjoy the practical nature of the voluntary work and appreciate being involved in activities that benefit the local community. Litter-picks on the local beaches and waterways, installing a poly-tunnel at the local school, and setting up a nature garden adjacent to Pembroke Dock Library are some of the recent successes that have been undertaken by fathers in the project. We are currently developing a larger community nature garden in partnership with Keep Tidy Wales at the new site.
Fathers working in the project will benefit from the fresh food provided and will also gain confidence, increase physical activity, learn new skills and improve their social networks and connections to the local community. In particular, we want the project to support a sense of purpose and hope, to build resilience in these uncertain times, strengthening fathers and enabling them to be better placed to support their families.
Activities will also allow fathers to participate with their children and we hope to offer after-school sessions that will provide opportunities for fathers and children to create memories and learn new skills together.
The Plant Dewi Men's Project aims to encourage fathers to meet new mates, to feel well and live well, look after one another and give something back to the community. There are very few services specifically aimed at supporting fathers and Plant Dewi have been developing services that meet this need over the last 17 years.
For more information on the project please contact Peter Arnold – 07507 687807 ; Facebook: Plant Dewi Mens Project