Crowdfundin' Cousins
Jeremy Martineau reports on a fundraising campaign which was launched on St David's Day to support three projects in Fishguard and Goodwick, aimed at benefitting local children and teenagers as well as visitors to the area
The group of cousins behind this initiative, who either grew up in the area or spent many holidays there, are hoping to raise £30,000 via the Crowdfunder platform.
There is a drive to revitalise the twin towns, and much of this is crystallised in the County Council's Strategic Regeneration Framework (SRF) 2019 for Fishguard and Goodwick. While some of the projects in the SRF will require six-figure funding, the cousins have focused on three areas highlighted in the Framework as strengths.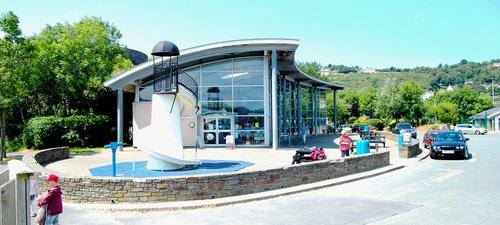 They plan to help buy a replacement for the recently-retired helter-skelter slide which stood for many years outside the Ocean Lab, seen as pivotal, on the Parrog seafront in Goodwick; provide funds for Theatr Gwaun's Show up Saturday programme of creative workshops aimed at teenagers and young adults – Theatr Gwaun being one of only two theatres and three cinemas in Pembrokeshire; and a contribution will go to the Chamber of Trade & Tourism to help improve tourist information and provide start-up funds for its North Pembrokeshire guided tours by minibus venture, already successfully trialled before Covid-19 struck last year.
The cousins are keen to tap into the wider global community of people for whom Fishguard and Goodwick are a special place.
"From what we have seen on social media there is a good deal of hiraeth out there in the UK and around the world, and there are also many great local people working hard to make things happen," say the cousins. "Within the greater regeneration funding picture, we had to focus on tangible, achievable targets. We are delighted to see what is happening – for example restoring the Square in Fishguard as a place to meet, and there are many other deserving causes such as the Ein Hanes history centre or any number of local clubs and associations. If we do well with this campaign, who knows, we may move on to something else."
Read more about the campaign on social media: Fishguard & Goodwick Funding for the Future, or to donate go direct to the Crowdfunder page: