Changing and adapting
Plant Dewi has found new ways to reach out to families across the diocese, as Catrin Eldred, Manager, explains
This past year and a half has changed our lives and Plant Dewi has been no different from other organisations, whereby we have had to change and adapt the way we deliver our services. From going into lockdown in March 2020, when we closed the office, family groups and family centres, we have come a long way and have continued to reach out to families living in the diocese.
Initially, all our Plant Dewi work was conducted via telephone, messaging, social media or video calling. This was the only way that we could maintain contact with families and, with such unprecedented times ahead, the support was needed more than ever.
Group sessions then started to be held online via Zoom and, with time, confidence and experience, developed. We now have a team that is capable of delivering a range of activities using this platform. The delivery of activity packs to families complemented the Zoom sessions as they were able to take part in crafts, games and cooking activities together once again, albeit virtually.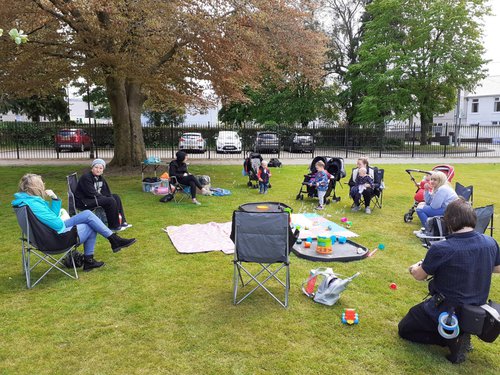 As restrictions eased, and, after nearly 5 months, outdoor sessions were available to families and this is something that will continue to feature in our timetables for the future. Families have enjoyed exploring their local areas during our sessions, have taken part in activities they would not have entertained before the pandemic and have turned up whatever the weather!
Some indoor work has started to take place with limited numbers of families accessing sessions such as baby massage and craft activities and we will continue to build on our indoor groups in readiness for the winter months.
We are committed to keeping our staff and families safe and a number of things have been put into place to ensure this, such as booking systems to limit numbers and health questionnaires. It is unfortunate that we have lost our 'open access' approach where families could just drop in to our sessions, however, we continue to engage with those families that need us the most.
We don't know when we will be free of the virus or when we can fully re-open once again, but for the past 18 months, Plant Dewi has worked hard to continue offering services to families. Moving forward, we will continue to adapt to the ever-changing needs of the communities we serve.